The Music sheet is a quest item used during the Grim Tales quest. It is obtained by searching boxes in the basement of the witch's house in Taverley and is used to play the piano in a special combination that will open a secret compartment in the piano to reveal a shrinking recipe, a to-do list and 2 shrunk ogleroots.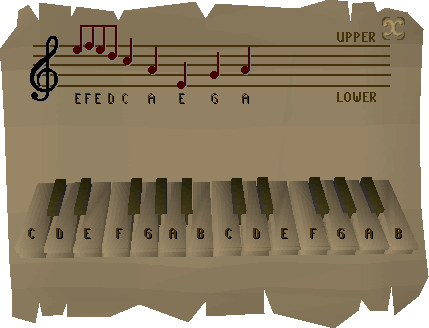 Non-player characters

Sylas • Rupert • Miazrqa • Grimgnash • Winkin

Items

 Magic beans •  Griffin feather •  Miazrqa's pendant •  Door key •  Music sheet •  Shrinking recipe •  To-do list •  Shrunk ogleroot •  Golden goblin

Rewards

 Dwarven helmet

Music Tracks

Locations

Related
Ad blocker interference detected!
Wikia is a free-to-use site that makes money from advertising. We have a modified experience for viewers using ad blockers

Wikia is not accessible if you've made further modifications. Remove the custom ad blocker rule(s) and the page will load as expected.