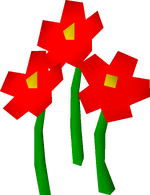 Nasturtiums are a type of flower that members can grow from their corresponding seeds. This requires level 24 Farming, and grants a total of 130.5 experience - 19.5 for planting, and 111 for harvesting. Only one bunch of nasturtiums is ever harvested, even if they grow without becoming diseased.
Players can pay a farmer one bunch of nasturtiums to look after growing wildblood hops.
Fully grown nasturtiums in a flower patch protects watermelons in a nearby allotment patch from disease.
Players can also use nasturtiums to make their own imp repellent by adding them to anchovy oil.
Allotment produce

 Potato •  Onion •  Cabbage •  Tomato •  Sweetcorn •  Strawberry
 Watermelon

Flower produce

 Marigolds •  Rosemary •  Nasturtiums •  Woad leaf •  Limpwurt root

Hops

 Barley •  Hammerstone hops •  Asgarnian hops •  Jute fibre •  Yanillian hops •  Krandorian hops •  Wildblood hops

Bush produce

 Redberries •  Cadava berries •  Dwellberries •  Jangerberries •  White berries •  Poison ivy berries

Tree produce

 Oak leaves •  Willow leaves •  Maple leaves •  Yew leaves •  Magic leaves •  Willow branch

Fruit tree produce

 Cooking apple •  Banana •  Orange •  Curry leaf •  Pineapple •  Papaya fruit •  Coconut

Special produce

 Grapes •  Zamorak's grapes •  Mushroom •  Cactus spine •  Cave nightshade •  Calquat fruit
Ad blocker interference detected!
Wikia is a free-to-use site that makes money from advertising. We have a modified experience for viewers using ad blockers

Wikia is not accessible if you've made further modifications. Remove the custom ad blocker rule(s) and the page will load as expected.