Ad blocker interference detected!
Wikia is a free-to-use site that makes money from advertising. We have a modified experience for viewers using ad blockers

Wikia is not accessible if you've made further modifications. Remove the custom ad blocker rule(s) and the page will load as expected.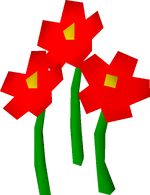 Nasturtiums are a type of flower that members can grow from their corresponding seeds. This requires level 24 Farming, and grants a total of 130.5 experience - 19.5 for planting, and 111 for harvesting. Only one bunch of nasturtiums is ever harvested, even if they grow without becoming diseased.
Players can pay a farmer one bunch of nasturtiums to look after growing wildblood hops.
Fully grown nasturtiums in a flower patch protects watermelons in a nearby allotment patch from disease.
Players can also use nasturtiums to make their own imp repellent by adding them to anchovy oil.
Allotment produce

 Potato •  Onion •  Cabbage •  Tomato •  Sweetcorn •  Strawberry
 Watermelon

Flower produce

 Marigolds •  Rosemary •  Nasturtiums •  Woad leaf •  Limpwurt root

Hops

 Barley •  Hammerstone hops •  Asgarnian hops •  Jute fibre •  Yanillian hops •  Krandorian hops •  Wildblood hops

Bush produce

 Redberries •  Cadava berries •  Dwellberries •  Jangerberries •  White berries •  Poison ivy berries

Tree produce

 Oak leaves •  Willow leaves •  Maple leaves •  Yew leaves •  Magic leaves •  Willow branch

Fruit tree produce

 Cooking apple •  Banana •  Orange •  Curry leaf •  Pineapple •  Papaya fruit •  Coconut

Special produce

 Grapes •  Zamorak's grapes •  Mushroom •  Cactus spine •  Cave nightshade •  Calquat fruit