Nurse Wooned is an NPC who resides in Shayzien House's infirmary in Great Kourend. She will ask that the player help her obtain shayzien medpacks in order to heal the soldiers.
Her name is a joke on "wound".
After the clue scroll update she is also involved in an Elite Clue where the answer is 52.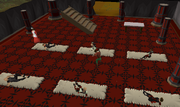 Arceuus House

Arcis • Aretha • Batt Mellamy • Biblia • Clerris • Dark wizard • Enoch • Filamina • Freald • Horphis • Loinur • Logosia • Look-out • Mofina • Novice • Ouditor • Professor Gracklebone • Rassain • Regath • Sam • Sister Soul Jar • Thyria • Tower Mage • Trossa • Tyss • Villia • Wizard

Piscarilius House

Alexander • Andrea • Captain Janaway • Captain Khaled • Charles • Cheryl • Darren • Dock worker • Dockmaster • Elizabeth • Fisherman • Frankie • Kenelme • Lorraine • Leenz • Mark • Melvin • Nicholas • Patrolman • Patrolwoman • Piliar • Port Official • Port worker • Raeli • Ross and Ben • Sarah • Simon • Tynan • Veos

Lovakengj House

Armourer (tier 1) • Armourer (tier 2) • Armourer (tier 3) • Armourer (tier 4) • Armourer (tier 5) • Fuggy • Lovada • Mine supervisor • Miriam • Munty • Operator • Toothy • Thirus

Shayzien House

Captain Babacus • Captain Ginea • Captain Kilian • Captain Rachelle • Captain Salara • Drill instructor • Mogrim • New recruit Tony • Nurse Boubou • Nurse Inn'Juree • Nurse Wooned • Osten • Shayda • Soldier (tier 1) • Soldier (tier 2) • Soldier (tier 3) • Soldier (tier 4) • Soldier (tier 5) • Quartermaster Briget

Hosidius House

Berry • Bologa • Charlie Brown • Chief Farmer • Clerk • Estate agent • Ewesey • Farmer's wife • Farmer Gricoller • Farmer Hayfield • Father Jean • Forester • Gallow • Golova • Gruff McScruff • Guildmaster Lars • Horace • Hosa • Kai • Konoo • Lammy Langle • Logava • Marisi • Murfet • Nesty • Pandur Hosidius • Perry • Ramocean • Richard • Servery assistant • Smoggy • Talia • Traxi • Vannah • Watson