Obor, the Hill Titan, is the hill giant boss residing in its lair, located in the locked gates found at the western wall of the hill giant area in the Edgeville Dungeon.
In order to access Obor's Lair, the player must obtain a giant key from a Hill Giant or Cyclops. Each giant key permits for only one attempt, similar to Skotizo and dark totems.
When the player first enters Obor's Lair, they will be in a safe zone, where they must climb down the rocks in order to fight him. Obor attacks with melee and range, and can detect whether the player is using protection prayers against his current attack style. For example, he will use ranging attacks if Protect from Melee is used.
Warning: If you die within the lair there is absolutely no way for you to retrieve items lost on death!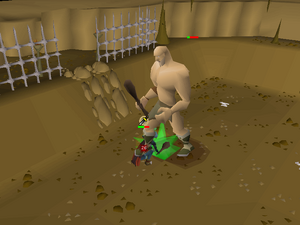 100% drops
Edit
Ammunition and Runes
Edit