Ad blocker interference detected!
Wikia is a free-to-use site that makes money from advertising. We have a modified experience for viewers using ad blockers

Wikia is not accessible if you've made further modifications. Remove the custom ad blocker rule(s) and the page will load as expected.
The odium ward is a range-class shield that requires at least 60 Defence to wield. It offers the best ranged attack bonus for the off-hand slot in the game. The ward is created from three components: the Odium shard 1, Odium shard 2 and Odium shard 3, all dropped by different bosses within the wilderness (Shard 1 - Chaos Fanatic, Shard 2 - Crazy archaeologist, Shard 3 - Scorpia).
When all three shards are present in the players inventory, they must travel to the Volcanic Forge on the most north-eastern part of the wilderness and forge the ward.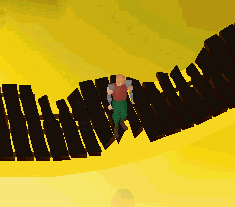 Players can use a ward upgrade kit, obtained from the Bounty Hunter Store, to cosmetically enhance the odium ward, creating an odium ward (or). This only alters its appearance, and becomes untradeable. It can be reverted, but the kit will not be retained.
Bonuses
Hover over image for type

A player wielding the odium ward.
 Attack bonus
-12
-12
-12
-8
+12
 Defence bonus
+0
+0
+0
+24
+52
Other bonuses
Slot

list

+0
0
0%
+0
Bosses

Callisto • Chaos Elemental • Chaos Fanatic • Crazy archaeologist • King Black Dragon
Scorpia (Offspring)(Guardian) • Venenatis • Vet'ion (Skeleton Hellhound) (Greater Skeleton Hellhound)

Other monsters

Elder Chaos druid • Ent • Lava dragon • Mammoth • Runite Golem

Rewards

Shields

 Malediction ward(or) • (Shard 1) • (Shard 2) • (Shard 3)
 Odium ward(or) • (Shard 1) • (Shard 2) • (Shard 3)

Rings

 Ring of the gods (imbued) •  Treasonous ring (imbued) •  Tyrannical ring (imbued)

Boss pets

 Prince black dragon •  Pet chaos elemental •  Callisto cub
 Venenatis spiderling •  Vet'ion jr. •  Scorpia's offspring

Other

 Fedora •  Dragon pickaxe •  Amulet of eternal glory •  Wilderness Rogues' Chests