Start point
Go to Shilo Village and talk to Yanni Salika.
Official difficulty
Experienced
Description
If you're fresh to Shilo Village after solving the mystery (or even if you did it some time ago), you may like to check out Yanni Salika's antiques shop.

He's a busy chap revamping antique items, checking out new stock from potential adventurers and maybe he'll have a small1 favour to ask of you? Probably nothing particularly large, Yanni isn't a demanding2 person, should hardly take you any time3 at all really, something to do when you have a spare moment.

That's assuming there aren't any complications.

1: - Perception of the word "small" may be open to interpretation.

2: - In a recent vote, Yanni Salika was only voted the second most demanding person in Shilo Village.

3: - As everyone knows, time is relative.

Length
Long
Requirements
36 Agility, 25 Crafting, 18 Herblore, 30 Smithing, and have completed Rune Mysteries, Shilo Village (quest) and Druidic Ritual.
Items required

Recommended:

Enemies to defeat
Walkthrough
Edit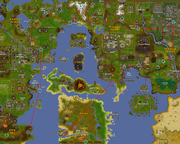 Items needed: A good pickaxe to mine the gems, and some form of teleport to Port Sarim, such as a glory to Draynor and walking there, a Rimmington tablet/house teleport, or some coins to ride a ship there.[1]
Travel to Shilo Village, and talk to Yanni Salika in the antiques shop north of the river. He will ask a small favour—get some red mahogany logs from a forester south of the village. (Tip: After you've spoken to Yanni, it would be great to mine the gems BEFORE you depart Shilo.)
Go outside the village to the south, and talk to a forester there. You are asked to take a blunt axe to Captain Shanks and get it sharpened.
Go due west to the ocean, and there will be a ladder. Go up the ladder, and talk to Captain Shanks. He will tell you to go to Port Sarim and get the axe sharpened yourself. Buy a ticket from him (44 coins) or teleport to Port Sarim anyway you can.
Asgarnia and Misthalin
Edit
Items needed: Pickaxe, Lumbridge teleport (optional),[2] Varrock teleport, 3 steel bars, Falador teleport, 1 harralander, 2 guams, 1 marrentill, a bowl of hot water, Empty cup, Camelot teleport.
Go to the Dwarven Mines. Head to the westernmost cave past the anvils until you see Hammerspike Stoutbeard surrounded by Dwarf Gang Members. Ask him about Tassie Slipcast, and tell him, "Oh, come on...do something nice for Tassie." Then, ask him, "Have you always been a gangster?" He will tell you that he always wanted to be a druid.
Go to Taverley, and talk with Sanfew who is on the first floor of the central hut with the herb icon. Ask him if he's taking any new initiates and accepts dwarves, and tell him that a dwarf you know wants to become one. He will allow Hammerspike to become a druid apprentice, but he wants you to give a Guthix rest tea to Captain Bleemadge on top of White Wolf Mountain and organise a trip for Sanfew down to the Feldip Hills.
Use the bowl of hot water with an empty teacup (one spawns in the building north of Sanfew), add 1 harralander, 2 guam leafs and a marrentill. Once you have the tea, travel to the top of White Wolf Mountain. Speak to Captain Bleemadge, and give him the tea. He will want some T.R.A.S.H (Triple Redundant Aero Super Hawsers) for the trip down to the Feldip Hills.
Note: Low levels should be aware of wolves while travelling on the mountain.
Kandarin
Edit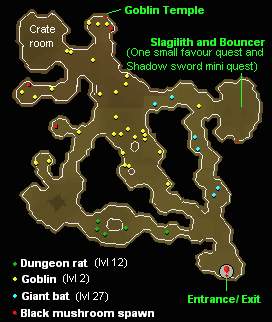 Items needed: Coins, Camelot teleport, Ardougne teleport, a ring of dueling, chisel, and some extra jades, opals and red topazes.
If you have yet to get the five pigeon cages, go to the house directly south of the northern bank in East Ardougne.
Go to Port Khazard. A quick way to get to there is to use the Minigame Group Finder Fishing Trawler teleport. Alternatively, take the boat from South Ardougne to Brimhaven and then the charter boat to Port Khazard for 400 coins. Talk to Tindel on the southern dock, and he will want his stodgy mattress stuffed for the iron oxide.
Go to the Feldip Hills (fairy ring code AKS, Feldip hills teleport or ring of dueling), and talk to Rantz, the ogre on the easternmost side of the hills. He cannot do it because there is a small man causing a disturbance which is scaring the chompy birds. Tell him that you'll see what you can do.
Go west until you see a landing strip with a gnome. Talk to him, and he will tell you he needs to repair the landing strip. Search each of the eight landing lights for a gem, cut it, and put it back in the landing lights. The gnome can sell you a chisel and spare gems for 500 gp each if you happen to crush them. 
Completing the favours
Edit
Items needed: Comfy mattress, iron oxide, Ardougne teleport, animate rock scroll, a good pickaxe/weapon, armour and some food, Camelot teleport, hammer, 1 bronze bar, 1 iron bar, 1 steel bar, weather report, Falador teleport, pot, soft clay, airtight pot, Varrock teleport, breathing salts, herbal tincture, 5 pigeon cages, Lumbridge teleport, chicken cages, some means of transportation or teleportation to get back to Port Sarim and Shilo Village, sharpened axe, and red mahogany logs.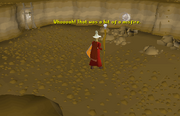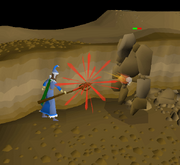 References
Edit
↑ Wearing Karamja gloves lowers the ship prices!
↑ Walking is perfectly fine since it's a short distance from Aggie to H.A.M. Dungeon.
2 experience lamps giving 10,000 experience to any skill of your choice. Skill must be at least level 30.
Ability to make Guthix rest tea.
Ability to craft pot lids.
Access to the gnome glider route to the Feldip Hills