Ad blocker interference detected!
Wikia is a free-to-use site that makes money from advertising. We have a modified experience for viewers using ad blockers

Wikia is not accessible if you've made further modifications. Remove the custom ad blocker rule(s) and the page will load as expected.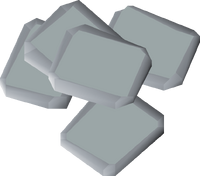 Platinum tokens are a currency that can be obtained by using coins on a banker, at a static rate of 1,000 coins per token.
Platinum tokens may be used to replace money due to the guaranteed exchange rate of 1,000 coins each. This is useful for players who have over the cash limit of 2,147,483,647 coins. It is also used for players who are trading or staking for items that are worth more than the maximum cash. For example, if the street value of an item is around 4 billion coins. Since players cannot hold (and thus trade) 4 billion coins at once, they can instead trade 4 million platinum tokens for the item, or a combination of coins and tokens to equal the amount.
Tradeable

 Coins •  Archery tickets •  Platinum token •  Trading sticks •  Survival token

Untradeable

 Agility arena tickets •  Blood money •  Castle wars tickets •  Ecto-tokens •  Frog tokens •  Golden nuggets •  Marks of grace •  Paramaya tickets •  Pieces of eight •  Reward token •  Tokkul •  Warrior guild tokens

Virtual

Bounty Hunter points • Honour points • Nightmare Zone reward points • Pizazz points • Slayer reward points • Void Knight commendation points