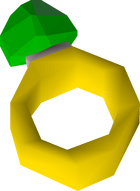 The ring of dueling is a teleportation ring that may be made by casting Lvl-2 Enchant on an emerald ring, granting 37 Magic experience. A full ring of dueling will provide 8 teleports before it crumbles away into nothing. Due to the low cost nature of the ring many players use it to bank quickly at the Castle Wars chest. Further, the Clan Wars teleport allows a player to enter and leave the Clan Wars portal whilst gaining full health, prayer and run energy. When players have only 1 teleport left on the ring, it is recommended to save it and cast High Level Alchemy on it later, as it has the same value as a fully charged ring.
Teleports
Edit
Bonuses
Hover over image for type
 Attack bonus
+0
+0
+0
+0
+0
 Defence bonus
+0
+0
+0
+0
+0
Other bonuses
Slot

list

+0
0
0%
+0
Standard

 Opal •  Gold •  Jade •  Topaz •  Sapphire •  Emerald •  Ruby •  Diamond •  Dragonstone •  Onyx •  Zenyte

Enchanted

 Pursuit •  Returning •  Efaritay's aid •  Recoil •  Dueling •  Forging •  Life •  Wealth (imbued) •  Stone •  Suffering (imbued)

Fremennik

 Archers (imbued) •  Berserker (imbued) •  Seers (imbued) •  Warrior (imbued)

Wilderness

 Treasonous (imbued) •  Tyrannical (imbued) •  Ring of the gods (imbued)

Other

 Beacon •  Charos (activated) •  Coins •  Easter •  Lunar •  Nature •  'Perfect' •  Slayer •  Visibility
Ad blocker interference detected!
Wikia is a free-to-use site that makes money from advertising. We have a modified experience for viewers using ad blockers

Wikia is not accessible if you've made further modifications. Remove the custom ad blocker rule(s) and the page will load as expected.