Ad blocker interference detected!
Wikia is a free-to-use site that makes money from advertising. We have a modified experience for viewers using ad blockers

Wikia is not accessible if you've made further modifications. Remove the custom ad blocker rule(s) and the page will load as expected.
Roving Elves is a sequel to the Waterfall Quest and Regicide. It revolves around consecrating the tomb of King Baxtorian on behalf of his and Glarial's grandson Islwyn.
| | |
| --- | --- |
| Start point | Talk to Islwyn inside the elven woods. |
| Official difficulty | Master |
| Description | Deep in the elven forests of Isafdar, live a duo of roving elves: Islwyn a grumpy, old elf who dislikes humans and his companion, Eluned, who is a beautiful, friendly, young female elf with a kind heart. In this quest, you are challenged to overcome Islwyn's prejudice against humans and alleviate the burdens of the past. |
| Length | Short-Medium |
| Requirements | |
| Items required | Recommended: |
| Enemies to defeat | Moss giant (level 84) (has to be killed unarmed) |
Walkthrough
Edit
To find the start points, use this map. The elves teleport back and forth between the two spots every few minutes, so be patient or switch servers if they're not there.
Getting there
Edit
There are several options to reach Islwyn and Eluned (listed below). Islwyn and Eluned are located either southwest of Lletya near a magic tree or northeast of Tyras Camp at a glade. Refer to the map above! They are not in the spot near the bridge. They can be reached by navigating through Tirannwn accessible via the Underground Pass dungeon, which requires at least two ropes, a spade, and a bow and arrows, the Arandar overpass located south of the Piscatoris Fishing Colony and Tree Gnome Stronghold, charter a ship to Port Tyras, or use Fairy rings (with 76 agility).
Option 1: From Port Tyras
Edit
Charter a ship at the Catherby or Port Sarim docks to Port Tyras.
Head east to the Tyras Camp and proceed north to the catapult.
Go southeast over a stick trap obstacle to reach a clearing with a small pond.
Option 2: From Arandar
Edit
Note: You cannot take the Arandar route without 56 Agility. Therefore, if your level is insufficient, you will need Agility potions to reach Islwyn.
Enter the huge gate southwest of Tree Gnome Stronghold, and follow the winding path. If you have 85 Agility, you can use the shortcuts, but with at least 68 Agility, you can use two of the three.
At the end of the path, head a bit southwest past some rabbits, but watch out of the tripwire.
Step over the tripwire with running turned off to decrease the chances of failing, and cross the log balance.
Go southeast through the dense forest.
To the east is the Underground Pass, so see below!
Option 3: From Underground Pass
Edit
Note: If you need to navigate the entire Underground Pass, go here.
Follow the path westward, and jump over the leaf trap to the south.
Enter the dense forest to the east after jumping the leaves.
Go east over the tripwire, and head south past the level 88 dire wolves.
Option 4: Fairy ring
Edit
Note: You cannot take the Fairy ring route without 76 Agility (boostable).
Use fairy ring code

b•j•s

.
Jump the rocks to the east (requires 76 agility) to get off the island.
Head north, past the Tyras Camp towards catapult.
Go southeast over a stick trap obstacle to reach a clearing with a small pond.
Starting out
Edit
Talk to Islwyn, and tell him the truth.
Offer to help, and you'll be directed to Eluned.
She asks you to retrieve the consecration seed from Glarial's Tomb by defeating "the guardian spirit" (a level 84 moss giant) unarmed, so bank all armour and weaponry, grab Glarial's pebble, plenty of food, and head over to the tomb.
The pebble
Edit
If you have Glarial's pebble, you can skip this section. Otherwise: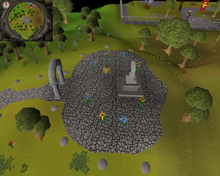 Do not take any armour, weapons, runes (for teleportation) with you. (All capes, and gloves that gives bonuses are not allowed! However, jewellery, including jewellery that gives stat bonuses (such as an amulet of fury) are allowed, Also, the Event rpg, a weapon which lets you melee at rapid speed, can be also be taken in.) You will have to kill a moss giant unarmed, however, you can take food and potions with you. Lots of food is suggested, as the giant could do a frequent max hit of 14.
The consecration seed
Edit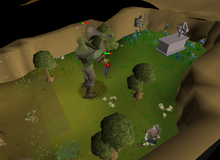 Through the waterfall
Edit
Items required: Rope, a spade, Glarial's amulet and the enchanted Consecration seed
Planting the seed
Edit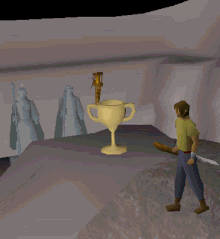 Go back to Islwyn to claim your reward. Pick either a crystal bow or a crystal shield. Both can be bought later; the bow is 900,000 coins and the shield is 750,000 coins. (They are both 2/10 charged and thus untradeable.)
Tip: If you plan on completing the Western Provinces Diary, choose the crystal bow as it's needed for a hard diary task.
Before leaving, it is recommended to speak to Eluned to start Mourning's Ends Part I to receive the teleport crystal to Lletya.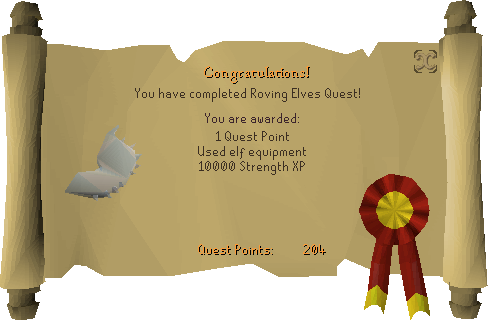 Required for completing
Edit
Completion of Roving Elves is required for the following: