Old School RuneScape uses the British convention for floor numbering: Ground floor, first floor, etc.
Start point
Lumbridge Castle. Go to the 1st floor[

U.K. floor

] and talk to the Duke Horacio.
Official difficulty
Novice
Description
Recent research at the Wizards' Tower has found a way to create Runes for the first time in centuries. Assist the head wizard Sedridor in his research and he too may teach you these secrets!
Length
Short
Requirements
None
Items required
None

Recommended: Any means to Varrock such as:

Any means to the Wizard's Tower

Enemies to defeat
None
Walkthrough
Edit
Talk to Duke Horacio on the 1st2nd floor[U.K. floor] of Lumbridge Castle, and ask him if he has any quests to give out. He will say that he has no quests, but found a strange talisman. He will give you an air talisman and tell you to bring it to the head wizard in the Wizards' Tower.
Go to the Wizards' Tower, which is south of Draynor Village. Once there, go to the basement (down the ladder), and talk to Wizard Sedridor. He will take your air talisman and give you a Research package. Then he will instruct you to deliver it to Aubury in Varrock.
Aubury is south of Varrock's east bank and is inside his rune shop. Talk to Aubury twice, and he will give you some notes and instruct you to deliver them to Wizard Sedridor.
Make your way back to the Wizards' Tower, and talk to Wizard Sedridor once more. He will give you back your air talisman and will explain to you the basics of Runecrafting.
Congratulations, quest complete!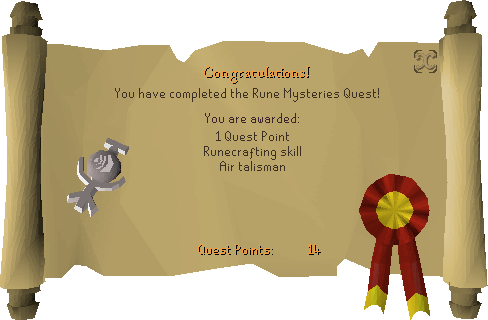 Ad blocker interference detected!
Wikia is a free-to-use site that makes money from advertising. We have a modified experience for viewers using ad blockers

Wikia is not accessible if you've made further modifications. Remove the custom ad blocker rule(s) and the page will load as expected.