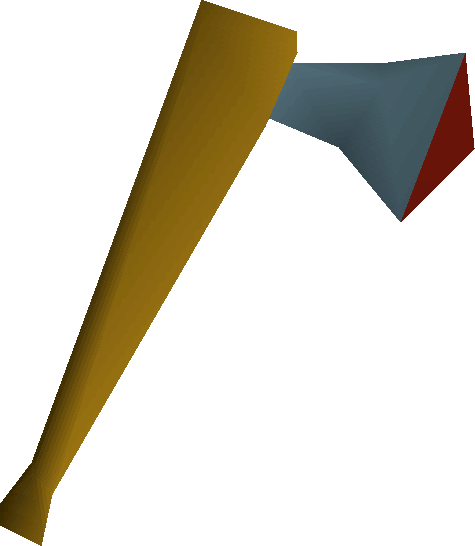 The rune axe is the fourth best axe, next to the dragon axe, 3rd age axe and Infernal axe. It can be used in combat or in Woodcutting to cut trees. Players can make a rune axe with the Smithing skill at level 86 using 1 runite bar, giving the player 75 Smithing experience.
It can be obtained as an uncommon drop from Lava dragons, Skeletal Wyverns and Tree spirits. It is also a rare drop from Steel dragons. It is a common reward from Hard Treasure Trails.
Players must have an Attack level of 40 to wield a rune axe as a weapon and a Woodcutting level of 41 to use a rune axe to chop down trees.
Bonuses
Hover over image for type
 Attack bonus
-2
+26
+24
+0
+0
 Defence bonus
+0
+1
+0
+0
+0
Other bonuses
Slot

list

+29
0
0%
+0
Dropping monsters
Edit

Bronze •

Iron •
Steel •

Black •

Mithril •

Adamant •
Rune •

Dragon
Weapons

 Dagger •  Axe •  Mace •  Claws •  Sword •  Longsword •  Scimitar •  Spear •  Warhammer •  Battleaxe •  2h sword •  Halberd •  Hasta •  Pickaxe •  Cane

Armour

 Med helm •  Full helmet (t) (g) •  Square shield •  Kiteshield (t) (g) •  Chainbody •  Platebody (t) (g) •  Plateskirt (t) (g) •  Platelegs (t) (g) •  Boots •  Gloves •  Defender

Gilded equipment

| | |
| --- | --- |
| Weapons | |
| Armour |  Full helm •  Platebody •  Platelegs •  Kiteshield •  Boots •  Med helm •  Chainbody •  Plateskirt •  Square shield |

Rune god armour

| | |
| --- | --- |
| Guthix |  Full helm •  Platebody •  Platelegs •  Plateskirt •  Kiteshield |
| Saradomin |  Full helm •  Platebody •  Platelegs •  Plateskirt •  Kiteshield |
| Zamorak |  Full helm •  Platebody •  Platelegs •  Plateskirt •  Kiteshield |
| Bandos |  Full helm •  Platebody •  Platelegs •  Plateskirt •  Kiteshield |
| Armadyl |  Full helm •  Platebody •  Platelegs •  Plateskirt •  Kiteshield |
| Ancient |  Full helm •  Platebody •  Platelegs •  Plateskirt •  Kiteshield |

Rune heraldic armour

Ranged

 Crossbow •  Bolts •  Arrows •  Brutal arrows •  Darts •  Javelins •  Thrownaxe

Other

 Bar •  Nails •  Arrowtips •  Javelin heads •  Dart tips •  Unfinished bolts •  Broken axe •  Broken pickaxe