Ad blocker interference detected!
Wikia is a free-to-use site that makes money from advertising. We have a modified experience for viewers using ad blockers

Wikia is not accessible if you've made further modifications. Remove the custom ad blocker rule(s) and the page will load as expected.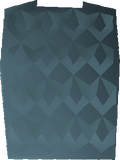 A rune chainbody is a chainbody made out of rune. To wear this chainbody, a player needs at least level 40 Defence. This piece of body armour is less resistant than the rune platebody in all stats except crush and magic and wearing it does not require completion of Dragon Slayer. For this reason it is commonly worn by players who have not finished said quest or who are fighting against enemies that use crush attacks. It is also useful for rangers since it has higher defence bonuses than the green d'hide body and it does not penalize ranged attack.
A player with 96 Smithing can make the chainbody by using three rune bars on an anvil, granting 225 Smithing experience. It can also be bought at Scavvo's Rune Store in the Champions' Guild, or for members, at Seddu's Adventurers' Store in Nardah.
Bonuses
Hover over image for type

A player wearing a rune chainbody
 Attack bonus
+0
+0
+0
-15
+0
 Defence bonus
+63
+72
+78
-3
+65
Other bonuses
Slot

list

+0
0
0%
+0
Dropping monsters
Edit

Bronze •

Iron •

Steel •

Black •

White •

Mithril •

Adamant •

Rune •
Dragon
Weapons

 Dagger •  Axe •  Mace •  Claws •  Sword •  Longsword •  Scimitar •  Spear •  Warhammer •  Battleaxe •  2h sword •  Halberd •  Hasta •  Pickaxe •  Cane

Armour

 Med helm •  Full helmet (t) (g) •  Square shield •  Kiteshield (t) (g) •  Chainbody •  Platebody (t) (g) •  Plateskirt (t) (g) •  Platelegs (t) (g) •  Boots •  Gloves •  Defender

Gilded equipment

| | |
| --- | --- |
| Weapons | |
| Armour |  Full helm •  Platebody •  Platelegs •  Kiteshield •  Boots •  Med helm •  Chainbody •  Plateskirt •  Square shield |

Rune god armour

| | |
| --- | --- |
| Guthix |  Full helm •  Platebody •  Platelegs •  Plateskirt •  Kiteshield |
| Saradomin |  Full helm •  Platebody •  Platelegs •  Plateskirt •  Kiteshield |
| Zamorak |  Full helm •  Platebody •  Platelegs •  Plateskirt •  Kiteshield |
| Bandos |  Full helm •  Platebody •  Platelegs •  Plateskirt •  Kiteshield |
| Armadyl |  Full helm •  Platebody •  Platelegs •  Plateskirt •  Kiteshield |
| Ancient |  Full helm •  Platebody •  Platelegs •  Plateskirt •  Kiteshield |

Rune heraldic armour

Ranged

 Crossbow •  Bolts •  Arrows •  Brutal arrows •  Darts •  Javelins •  Thrownaxe

Other

 Bar •  Nails •  Arrowtips •  Javelin heads •  Dart tips •  Unfinished bolts •  Broken axe •  Broken pickaxe