Ad blocker interference detected!
Wikia is a free-to-use site that makes money from advertising. We have a modified experience for viewers using ad blockers

Wikia is not accessible if you've made further modifications. Remove the custom ad blocker rule(s) and the page will load as expected.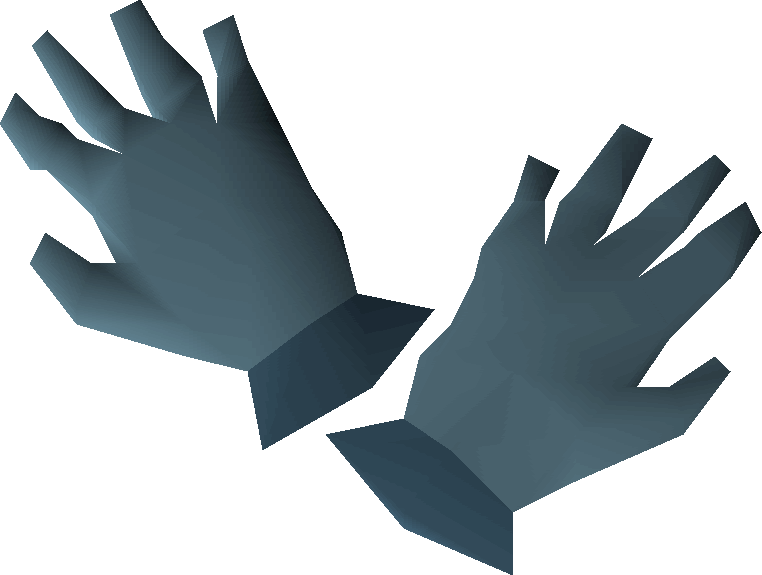 Rune gloves are special metal gloves that can be bought from the Culinaromancer's chest after completion of eight Recipe for Disaster subquests.
These gloves are a great option for high risk activities such as PVP as they only cost 6,500 GP but provide great bonuses compared to higher priced equipment.
Level 34 defence is a theoretical requirement (despite no actual requirements) to wear these gloves, due to the minimum 20,000 xp defence reward from Monkey Madness (xp collection is required in order to complete the Awowogei sub-quest), and 2,000 defence xp from the Nature Spirit quest required to completed the Lumbridge Guide sub-quest.
As with all glove-based melee equipment, this item cannot be made using the Smithing skill.
Bonuses
Hover over image for type

A player wearing rune gloves
 Attack bonus
+8
+8
+8
+4
+8
 Defence bonus
+8
+8
+8
+4
+8
Other bonuses
Slot

list

+8
0
0%
+0

 Hardleather •

 Bronze •

 Iron •

 Steel •
 Black •
 Mithril •

 Adamant •
 Rune •

 Dragon •
 Barrows
Weapons

 Dagger •  Axe •  Mace •  Claws •  Sword •  Longsword •  Scimitar •  Spear •  Warhammer •  Battleaxe •  2h sword •  Halberd •  Hasta •  Pickaxe •  Cane

Armour

 Med helm •  Full helmet (t) (g) •  Square shield •  Kiteshield (t) (g) •  Chainbody •  Platebody (t) (g) •  Plateskirt (t) (g) •  Platelegs (t) (g) •  Boots •  Gloves •  Defender

Gilded equipment

| | |
| --- | --- |
| Weapons | |
| Armour |  Full helm •  Platebody •  Platelegs •  Kiteshield •  Boots •  Med helm •  Chainbody •  Plateskirt •  Square shield |

Rune god armour

| | |
| --- | --- |
| Guthix |  Full helm •  Platebody •  Platelegs •  Plateskirt •  Kiteshield |
| Saradomin |  Full helm •  Platebody •  Platelegs •  Plateskirt •  Kiteshield |
| Zamorak |  Full helm •  Platebody •  Platelegs •  Plateskirt •  Kiteshield |
| Bandos |  Full helm •  Platebody •  Platelegs •  Plateskirt •  Kiteshield |
| Armadyl |  Full helm •  Platebody •  Platelegs •  Plateskirt •  Kiteshield |
| Ancient |  Full helm •  Platebody •  Platelegs •  Plateskirt •  Kiteshield |

Rune heraldic armour

Ranged

 Crossbow •  Bolts •  Arrows •  Brutal arrows •  Darts •  Javelins •  Thrownaxe

Other

 Bar •  Nails •  Arrowtips •  Javelin heads •  Dart tips •  Unfinished bolts •  Broken axe •  Broken pickaxe