This article is about item that stores magic runes. For item that stores rune or pure essence for runecrafting, see
Pouch (Runecrafting)
.

The rune pouch is an item that can store 16,000 of three types of runes. Players can use the runes from within the pouch, saving inventory space. If a player dies during PVP, they will lose the rune pouch. If a player is killed by another player, neither player will receive the rune pouch. Since the death mechanics update on 22 May 2015, it is kept on death outside of PVP, despite what the current "Items lost on Death" menu claims.
You can take the Rune Pouch to Entrana.
It can be purchased at the Bounty Hunter Store for 1,200,000 points. Players cannot own more than one rune pouch. Players often buy Mysterious Emblems in bounty hunter worlds in exchange for bounty hunter points. It takes 24 tier 1 emblems to purchase the Rune pouch. Players like to sell tier 1 emblems for an average of 100k each, so you can expect to pay around 2.4m if you want to buy the rune pouch off of only tier 1 emblems. However, you may be able to obtain one tier 6 emblem usually going around 1.3m. Your last two options are to kill wilderness bosses for emblems or to get slayer tasks from the Wilderness slayer master and obtain a tier 1 emblem from the monster drops.
If a player attempts to store the rune pouch while the storage interface is open, the message "Don't be silly." appears in the chatbox.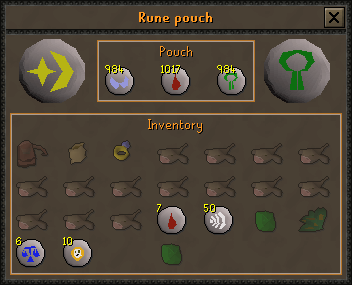 Bounty Hunter

Rewards

Weapons

 Dragon scimitar •  Dragon longsword •  Dragon dagger •  Dragon battleaxe •  Dragon mace •  Dragon halberd •  Bolt rack •  Rune arrows •  Adamant arrows •  Crystal seed

Armour

 Helm of neitiznot •  Berserker helm •  Warrior helm •  Archer helm •  Farseer helm •  Mystic robe top •  Mystic robe bottom •  Mystic hat •  Mystic gloves •  Mystic boots •  Rune platebody •  Rune platelegs •  Rune plateskirt •  Climbing boots

Magic tablets

 Paddewwa •  Senntisten •  Annakarl •  Carrallangar •  Dareeyak •  Ghorrock •  Kharyrll •  Lassar

Cosmetic upgrades

| | |
| --- | --- |
| Cosmetic upgrade kits |  Green dark bow paint •  Yellow dark bow paint •  White dark bow paint •  Blue dark bow paint •  Volcanic whip mix •  Frozen whip mix •  Steam staff upgrade kit •  Lava staff upgrade kit •  Dragon pickaxe upgrade kit •  Ward upgrade kit •  Granite clamp |
| Ornamented items |  Volcanic abyssal whip •  Frozen abyssal whip •  Steam battlestaff •  Lava battlestaff •  Dragon pickaxe •  Odium ward •  Malediction ward •  Granite maul |

Miscellaneous

 Ring of wealth scroll •  Magic shortbow scroll •  Saradomin's tear •  Saradomin's blessed sword •  Rune pouch •  Looting bag •  Clue box •  Bounty teleport scroll •  Hunter's honour •  Rogue's revenge
Storage Items

Storage Items

 Seed box •  Herb sack •  Bolt pouch •  Druid pouch
Ad blocker interference detected!
Wikia is a free-to-use site that makes money from advertising. We have a modified experience for viewers using ad blockers

Wikia is not accessible if you've made further modifications. Remove the custom ad blocker rule(s) and the page will load as expected.