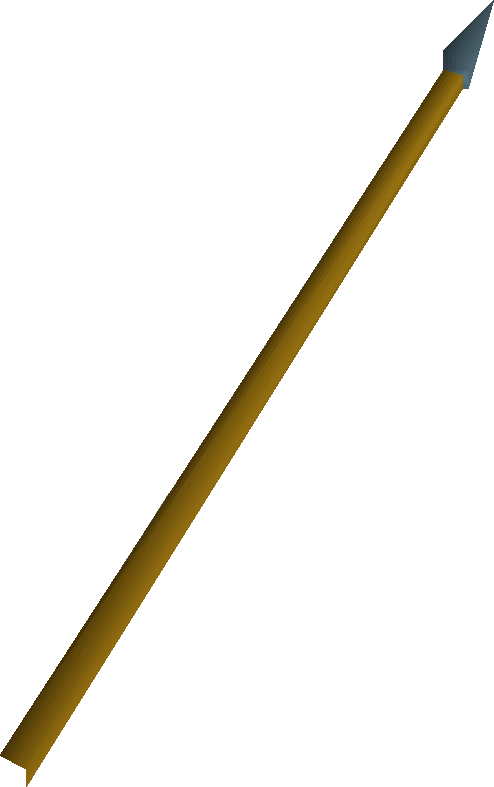 The rune spear is a two handed melee weapon and is the fifth strongest spear in Old School RuneScape. Rune spears are a members' only weapon. Rune spears are obtained by either purchasing one from another player or receiving it as a monster drop. Rune spears are not sold in shops. Players with 90 Smithing can create rune spears with one runite bar and one magic log. However, players must have begun Barbarian Smithing Training to be able to smith these spears. Like most spears, the rune spear can be poisoned.
This item is used for a Hard treasure trail.
For Ironmen that need this item for a clue scroll, you can also complete Tai Bwo Wannai Trio for a Rune Spear (KP) and then clean the poison.
This item is a possible drop from the Rare drop table.
Bonuses
Hover over image for type

A player wielding a rune spear.
 Attack bonus
+36
+36
+36
+0
+0
 Defence bonus
+1
+1
+0
+0
+0
Other bonuses
Slot

list

+42
0
0%
+0
Dropping monsters
Edit
| Monster | Combat level | Quantity | Rarity |
| --- | --- | --- | --- |
| Scorpia | 225 | 1 | |
| Mithril Dragon | 304 | 1 | |
| Armadylian guard | 97 | 1 | |
Ad blocker interference detected!
Wikia is a free-to-use site that makes money from advertising. We have a modified experience for viewers using ad blockers

Wikia is not accessible if you've made further modifications. Remove the custom ad blocker rule(s) and the page will load as expected.