Ad blocker interference detected!
Wikia is a free-to-use site that makes money from advertising. We have a modified experience for viewers using ad blockers

Wikia is not accessible if you've made further modifications. Remove the custom ad blocker rule(s) and the page will load as expected.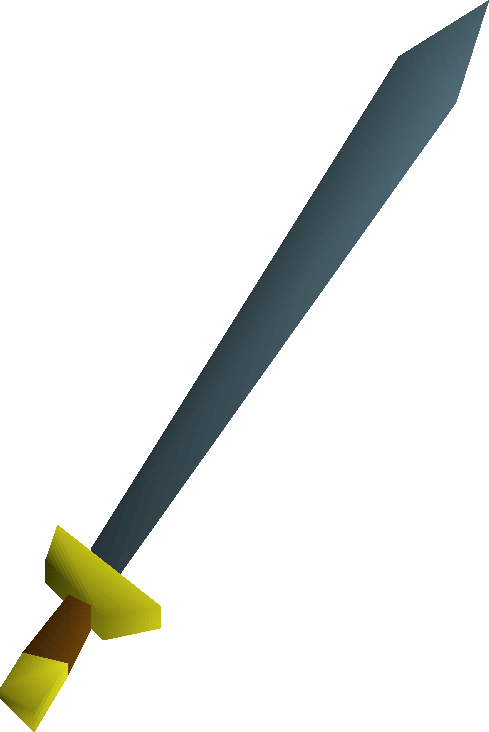 A rune sword is a medium-level sword made out of rune. It can be purchased from Scavvo's Rune Store for 20,800 coins. Like all rune weapons, it requires 40 Attack to wield.
A rune sword can be created at level 89 Smithing using 1 rune bar, giving the player 75 Smithing experience.
Bonuses
Hover over image for type

A player wielding a rune sword.
 Attack bonus
+38
+26
-2
+0
+0
 Defence bonus
+0
+2
+1
+0
+0
Other bonuses
Slot

list

+39
0
0%
+0
Combat styles
Edit
Dropping monsters
Edit
Standard

 Bronze •  Iron •  Steel •  Black •  White •  Mithril •  Adamant •  Rune

Others

 Training sword •  Wooden sword •  Leaf-bladed sword •  Toktz-xil-ak
Weapons

 Dagger •  Axe •  Mace •  Claws •  Sword •  Longsword •  Scimitar •  Spear •  Warhammer •  Battleaxe •  2h sword •  Halberd •  Hasta •  Pickaxe •  Cane

Armour

 Med helm •  Full helmet (t) (g) •  Square shield •  Kiteshield (t) (g) •  Chainbody •  Platebody (t) (g) •  Plateskirt (t) (g) •  Platelegs (t) (g) •  Boots •  Gloves •  Defender

Gilded equipment

| | |
| --- | --- |
| Weapons | |
| Armour |  Full helm •  Platebody •  Platelegs •  Kiteshield •  Boots •  Med helm •  Chainbody •  Plateskirt •  Square shield |

Rune god armour

| | |
| --- | --- |
| Guthix |  Full helm •  Platebody •  Platelegs •  Plateskirt •  Kiteshield |
| Saradomin |  Full helm •  Platebody •  Platelegs •  Plateskirt •  Kiteshield |
| Zamorak |  Full helm •  Platebody •  Platelegs •  Plateskirt •  Kiteshield |
| Bandos |  Full helm •  Platebody •  Platelegs •  Plateskirt •  Kiteshield |
| Armadyl |  Full helm •  Platebody •  Platelegs •  Plateskirt •  Kiteshield |
| Ancient |  Full helm •  Platebody •  Platelegs •  Plateskirt •  Kiteshield |

Rune heraldic armour

Ranged

 Crossbow •  Bolts •  Arrows •  Brutal arrows •  Darts •  Javelins •  Thrownaxe

Other

 Bar •  Nails •  Arrowtips •  Javelin heads •  Dart tips •  Unfinished bolts •  Broken axe •  Broken pickaxe