Ad blocker interference detected!
Wikia is a free-to-use site that makes money from advertising. We have a modified experience for viewers using ad blockers

Wikia is not accessible if you've made further modifications. Remove the custom ad blocker rule(s) and the page will load as expected.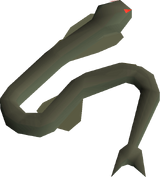 Sacred eels are members-only fish that can be caught at Zul-Andra with a fishing rod and bait with at least level 87 Fishing, granting 105 Fishing experience per eel caught. The village may only be accessed once players reach the Tyras Camp during Regicide.
With a Cooking level of 72, the fish can be dissected with a knife to extract Zulrah's scales. Dissecting the fish can give 3-8 scales and 109-124 cooking experience. A player's Cooking level has an effect on how many scales are received when they are dissected. If your cooking level is in the mid 80s, you can expect to average around 5 scales per fish.
With 90 Fishing and Cooking, you get nearly 20k fishing and 25k Cooking experience per hour, and gain about 1k scales.
According to High Priestess Zul-Harcinqa, people who eat the sacred eels will become one with the Zul-Andra tribe, and causes their original families and tribes to shun them as unclean creatures, forcing them to remain in Zul-Andra and worship Zulrah, who the tribe sees as their god.
Standard fish

 Shrimps (raw) •  Karambwanji (raw) •  Sardine (raw) •  Herring (raw)
 Anchovies (raw) •  Mackerel (raw) •  Trout (raw) •  Cod (raw) •  Pike (raw)
 Cooked slimy eel (raw) •  Salmon (raw) •  Tuna (raw) •  Rainbow fish (raw)
 Cave eel (raw) •  Lobster (raw) •  Bass (raw) •  Swordfish (raw)
 Monkfish (raw) •  Shark (raw) •  Anglerfish (raw) •  Dark crab (raw)

Special fish

 Goblin fish (steamed) •  Giant carp (raw) •  Lava eel (raw) •  Karambwan (raw) (poison) •  Sea turtle (raw) •  Manta ray (raw) •  Fishlike thing (raw) •  Sacred eel

Leaping fish

Trophy fish