Ad blocker interference detected!
Wikia is a free-to-use site that makes money from advertising. We have a modified experience for viewers using ad blockers

Wikia is not accessible if you've made further modifications. Remove the custom ad blocker rule(s) and the page will load as expected.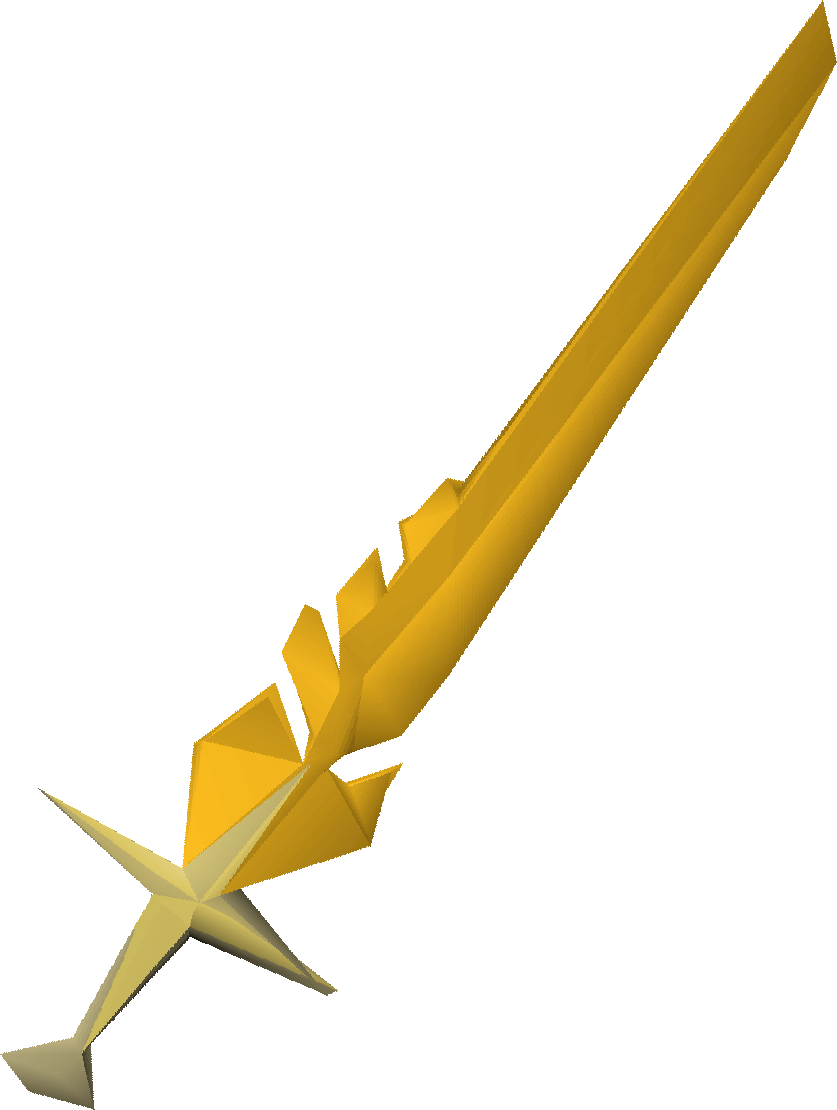 Saradomin's blessed sword is a weapon which requires 75 attack to wield. It is created by combining Saradomin's tear with the Saradomin sword. The blessed sword has +18 Slash and +6 Strength more than the normal variant.
Saradomin's blessed sword degrades as it is used. After 10,000 hits with the weapon (400 minutes of continuous combat), it will degrade and consume the Saradomin sword, leaving the player with Saradomin's tear.
The special attack for Saradomin's blessed sword is a Magic-based attack that doubles a player's accuracy and consumes 65% of the special attack bar. Under perfect conditions, the special attack can hit up to 70. The special attack deals one hit as magic-based melee with 25% increased damage.
When using the items on each other there will be a warning message that states A blessed Saradomin sword is untradeable, with an Attack requirement of 75. After 10,000 hits, the sword crumbles to dust, and you get the Tear back.
If the sword is not protected upon death, it will fully degrade into Saradomin's tear. However, if it is protected on death, it will remain in its regular state as Saradomin's blessed sword.
Bonuses
Hover over image for type
 Attack bonus
+0
+100
+60
+0
+0
 Defence bonus
+0
+0
+0
+0
+0
Other bonuses
Slot

list

+88
0
0%
+2
Combat styles
Edit
Bounty Hunter

Rewards

Weapons

 Dragon scimitar •  Dragon longsword •  Dragon dagger •  Dragon battleaxe •  Dragon mace •  Dragon halberd •  Bolt rack •  Rune arrows •  Adamant arrows •  Crystal seed

Armour

 Helm of neitiznot •  Berserker helm •  Warrior helm •  Archer helm •  Farseer helm •  Mystic robe top •  Mystic robe bottom •  Mystic hat •  Mystic gloves •  Mystic boots •  Rune platebody •  Rune platelegs •  Rune plateskirt •  Climbing boots

Magic tablets

 Paddewwa •  Senntisten •  Annakarl •  Carrallangar •  Dareeyak •  Ghorrock •  Kharyrll •  Lassar

Cosmetic upgrades

| | |
| --- | --- |
| Cosmetic upgrade kits |  Green dark bow paint •  Yellow dark bow paint •  White dark bow paint •  Blue dark bow paint •  Volcanic whip mix •  Frozen whip mix •  Steam staff upgrade kit •  Dragon pickaxe upgrade kit •  Ward upgrade kit •  Granite clamp |
| Ornamented items |  Volcanic abyssal whip •  Frozen abyssal whip •  Steam battlestaff •  Dragon pickaxe •  Odium ward •  Malediction ward •  Granite maul |

Miscellaneous

 Ring of wealth scroll •  Magic shortbow scroll •  Saradomin's tear •  Saradomin's blessed sword •  Rune pouch •  Looting bag •  Clue box •  Bounty teleport scroll •  Hunter's honour •  Rogue's revenge
Godswords

 Armadyl (or) •  Bandos (or) •  Saradomin (or) •  Zamorak (or)

Armadyl armour
Bandos armour

 Chestplate •  Tassets •  Boots

Weapons

 Saradomin sword (blessed) •  Zamorakian spear (hasta) •  Staff of the dead (toxic)
 Armadyl crossbow •  Steam battlestaff (or)

Pets

 Kree'arra •  General Graardor•  Commander Zilyana •  K'ril Tsutsaroth

Other