Ad blocker interference detected!
Wikia is a free-to-use site that makes money from advertising. We have a modified experience for viewers using ad blockers

Wikia is not accessible if you've made further modifications. Remove the custom ad blocker rule(s) and the page will load as expected.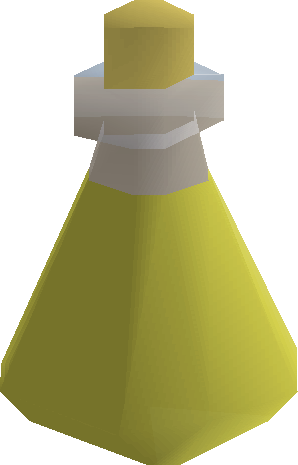 A Saradomin brew is made by mixing toadflax and a crushed bird's nest in a vial of water, giving 180 Herblore experience. It requires level 81 Herblore.
A Saradomin brew temporarily raises your hitpoints by 15% + 2, rounded down (since it is a potion this means it is one of few ways to raise your Hitpoints above the normal maximum) and your Defence by 20% + 2, rounded down (better than a super defence potion). It temporarily lowers your Strength, Attack, Magic and Ranged by 10% + 2.
They are primarily used for healing whilst using protection prayers and super restore potions - used carefully, they restore far more hitpoints per inventory spot than any other item other than purple sweets. Saradomin brews are often used when fighting bosses, PKing, and minigames such as TzHaar Fight Cave.
If you're using brews with super restores then you should drink 3 doses of brew, and then 1 dose of super restore to be efficient.
Price per dose
Edit
| Item | Price per dose |
| --- | --- |
| Saradomin brew(1) | 1,544 |
| Saradomin brew(2) | 1,582 |
| Saradomin brew(3) | 1,616 |
| Saradomin brew(4) | 1,557 |
Dropping monsters
Edit
Saradomin brew (2)
Edit
Saradomin brew (3)
Edit
Saradomin brew (4)
Edit
| Monster | Combat level | Quantity | Rarity |
| --- | --- | --- | --- |
| Zulrah | 725 | 10 | |
Unfinished potions

 Coconut milk •  Guam •  Rogue's purse •  Marrentill •  Tarromin •  Ash •  Harralander •  Guthix balance •  Ranarr •  Toadflax •  Magic essence •  Irit •  Ardrigal •  Snakeweed •  Avantoe •  Kwuarm •  Snapdragon •  Cadantine •  Lantadyme •  Antipoison+ •  Dwarf weed •  Weapon poison+ •  Torstol •  Antipoison++ •  Weapon poison++ •  Rejuvenation

Combat potions

 Attack (mix) •  Strength (mix) •  Defence (mix) •  Magic (mix) •  Ranging (mix) •  Combat (mix) •  Super attack (mix) •  Super strength (mix) •  Magic essence (mix) •  Super defence (mix)•  Super combat •  Antifire (mix) •  Extended antifire (mix) •  Zamorak brew (mix) •  Saradomin brew •  Super ranging •  Super magic •  Overload

Recovery potions

 Stat restore (mix) •  Energy (mix) •  Prayer (mix) •  Super energy (mix) •  Super restore (mix) •  Sanfew serum •  Stamina (mix)

Cures and antipoisons

 Relicym's balm (mix) •  Antipoison (mix) •  Superantipoison (mix) •  Antidote+ (mix) •  Antidote++ •  Sanfew serum •  Anti-venom •  Anti-venom+

Skill potions

Weapon poisons

Others

 Potion •  Blamish oil •  Bravery •  Strange •  Magic ogre(incorrect) (correct) (unf) •  Cadava •  Compost •  Guthix balance •  Guthix rest •  Shrink-me-quick •  Troll •  Olive oil •  Sacred oil •  Serum 207 •  Serum 208 •  Rejuvenation •  Voice