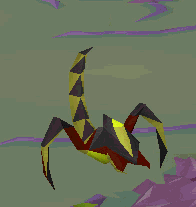 Scions are summoned during the fight with the Abyssal Sire. They grow from spawns if not killed within twelve seconds.
Like the Sire, Scions can hit through prayer, in which they deal a maximum of 6 damage instead, and will occasionally react to the player's overhead prayers. Scions will automatically die if they persist too long in the chamber (e.g unable to attack a target/is not being attacked) or the Sire is killed.
Upon release, scions simply appeared as a larger version of spawns that were encountered during the fight with the Abyssal Sire. They were given a graphical update three weeks later in an update on 22 Ocotober 2015.
Ad blocker interference detected!
Wikia is a free-to-use site that makes money from advertising. We have a modified experience for viewers using ad blockers

Wikia is not accessible if you've made further modifications. Remove the custom ad blocker rule(s) and the page will load as expected.