Ad blocker interference detected!
Wikia is a free-to-use site that makes money from advertising. We have a modified experience for viewers using ad blockers

Wikia is not accessible if you've made further modifications. Remove the custom ad blocker rule(s) and the page will load as expected.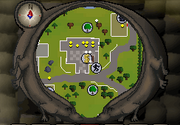 The Seers' Village Rooftop Agility Course is available to players with an Agility level of 60 or over. If this course is started at level 60, it would take 814 complete laps to reach level 70. A perfect lap takes exactly 45 seconds, making the best possible xp per hour 45600. This means that training from 60 to 70 will require 10-11 hours of relatively concentrated training.
It can be started by climbing up the wall near the entrance of Seer's Village bank and is finished by jumping off the roof of the church, by the Yew trees. Players get 570 experience from completing the course.
It is possible to fail at the Jump Gap 1 and Cross Tightrope obstacles and be inflicted 3-8 damage. One will completely stop failing the first gap obstacle at around level 72, and stop failing the tightrope obstacle at level 79.
If a player is having trouble with failing obstacles and being low on hitpoints, they can use the Rapid Heal prayer and refresh their prayer points at the altar upon completing their lap.
Wearing Kandarin headgear is NOT needed to increase the spawn rate of Marks of grace while doing this agility course, simply completing that task set will provide the bonus.
After completing the hard Kandarin Diary one can move the Camelot Teleport location to just outside the Seers' Village bank, saving about 10 seconds of running back to the start of the course. This brings the xp per hour up to 56k at 79+ Agility.
Experience per obstacle

| Image | Obstacle | Experience |
| --- | --- | --- |
| | Climb-up Wall | 45 |
| | Jump Gap 1 | 20 |
| | Cross Tightrope | 20 |
| | Jump Gap 2 | 35 |
| | Jump Gap 3 | 15 |
| | Jump Edge | 435 |
| | Total | 570 |
Agility courses

 Gnome stronghold(1) •  Gnome Ball(1) •  Brimhaven(1) •  Werewolf Skullball(25) •  Agility Pyramid(30) •  Penguin(30) •  Barbarian Outpost(35) •  Ape Atoll(48) •  Wilderness(52) •  Werewolf(60) •  Dorgesh-Kaan(70)

Rooftop Agility courses

Draynor Village(10) • Al Kharid(20) • Varrock(30) • Canifis(40) • Falador(50) • Seers' Village(60) • Pollnivneach(70) • Rellekka(80) • Ardougne(90)