Ad blocker interference detected!
Wikia is a free-to-use site that makes money from advertising. We have a modified experience for viewers using ad blockers

Wikia is not accessible if you've made further modifications. Remove the custom ad blocker rule(s) and the page will load as expected.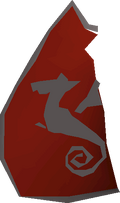 The shield left half is an item that can be joined with the right half to create the dragon square shield with level 60 Smithing. Joining the right half with the left half earns 75 Smithing experience. The other half of the shield is sold by Siegfried Erkle in the Legends Guild Shop of Useful Items for 750,000 coins.
The shield left half is confirmed to be on the rare drop table, so a large number of monsters can drop it. These drops, however, are understandably very rare.
Dropping monsters
Edit
The right and left halves appear to be two parts of a kiteshield.

Melee Weapons

 Axe •  Pickaxe (or) •  Battleaxe •  Claws •  Dagger •  Halberd •  Mace •  Longsword •  Scimitar (or) •  Spear •  2h sword •  Warhammer

Ranged weapons/ammo
Armour

 Med helm •  Full helm (g) •  Chainbody (g) •  Plateskirt (g) •  Platelegs (g) •  Square shield (g) •  Gloves •  Boots •  Defender (t)

Other

 Shield left half •  Shield right half •  Dart tips •  Arrowtips •  Javelin heads