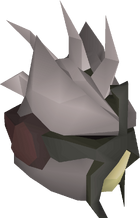 The Slayer helmet (i) is a piece of equipment that is worn in the helmet slot. It provides the bonuses of multiple pieces of protective and beneficial Slayer equipment. It functions in the same manner as its unimbued variant, except that it provides an extra 15% boost to Ranged accuracy and damage, and a 15% boost to Magic accuracy and Magic damage.
Players can imbue the slayer helmet using 1,250,000 Nightmare Zone reward points. This can be done to a black mask before assembling the Slayer helmet or to the Slayer helmet itself.
For players with undead Slayer assignments, the boosts given by the Salve amulet or Salve amulet (e) do not stack with the effects of a Slayer helmet (i).
Upon death, the slayer helmet will now remain equipped to the player or stay in the inventory, as with other untradeable items. Previously, all components of the helmet would disappear and the black mask would appear on the ground.
Note: This only applies for player versus monsters.
The defensive bonuses of the Slayer helmet (i) are equivalent to those of the Rune full helm, with the exception of providing +10 magic defence as well as positive Magic And Ranged attack bonuses.
Bonuses
Hover over image for type

A player wearing a slayer helmet (i).
 Attack bonus
+0
+0
+0
+3
+3
 Defence bonus
+30
+32
+27
+10
+30
Other bonuses
Slot

list

+0
0
0%
+0
Equipment from Slayer Masters

 Broad arrows •  Earmuffs •  Facemask •  Insulated boots •  Leaf-bladed spear •  Nose peg •  Mirror shield •  Slayer gloves •  Slayer's staff •  Spiny helmet •  Lit bug lantern •  Witchwood icon

Items from Slayer Masters

 Bag of salt •  Enchanted gem •  Fishing explosive •  Fungicide spray •  Fungicide •  Rock hammer •  Ice cooler •  Slayer bell •  Broad arrowheads •  Unfinished broad bolts •  Broad arrowhead pack •  Unfinished broad bolt pack

Purchased with Slayer reward points

 Slayer ring •  Broad bolts •  Herb sack •  Slayer helmet (imbued) •  Black slayer helmet (imbued)  Green slayer helmet (imbued)  Red slayer helmet (imbued)

Others

 Black mask (imbued) •  Leaf-bladed sword •  Leaf-bladed battleaxe
Ad blocker interference detected!
Wikia is a free-to-use site that makes money from advertising. We have a modified experience for viewers using ad blockers

Wikia is not accessible if you've made further modifications. Remove the custom ad blocker rule(s) and the page will load as expected.