A spider on stick can be made on Karamja during the Tai Bwo Wannai Cleanup minigame. Kill a jungle spider to get spider carcass, then use a machete to cut a thatching spar from the undergrowth around Tai Bwo Wannai, use the thatching spar with a machete to make skewer sticks, then use a skewer stick with the spider carcass. Alternatively an arrow shaft can be used.
When the spider is on a stick, it can be cooked, granting 80 Cooking experience. Cooking level 16 is needed. When eaten, the skewer stick returns to inventory.
Eating a spider on a stick restores 7 hitpoints.
A spider on stick is needed to be cooked during a medium task in Karamja achievement diary.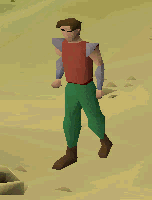 Ad blocker interference detected!
Wikia is a free-to-use site that makes money from advertising. We have a modified experience for viewers using ad blockers

Wikia is not accessible if you've made further modifications. Remove the custom ad blocker rule(s) and the page will load as expected.