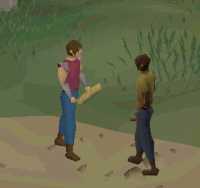 A Stale baguette is a very rare item that can be received by opening a mystery box, which can be received from completing the Quiz Master random event. There is a 1/256 chance of receiving the stale baguette.
When a player receives the stale baguette, a message in the chatbox appears, stating Inside the box you find a baguette! Make of it what you will.
Aside from appearance and tradeability, it is the same as a rubber chicken.
Bonuses
Hover over image for type
 Attack bonus
-100
-100
-50
+0
+0
 Defence bonus
+0
+0
+0
+0
+0
Other bonuses
Slot

list

-10
0
0%
+0
Combat styles
Edit