Ad blocker interference detected!
Wikia is a free-to-use site that makes money from advertising. We have a modified experience for viewers using ad blockers

Wikia is not accessible if you've made further modifications. Remove the custom ad blocker rule(s) and the page will load as expected.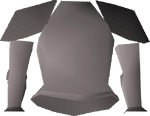 The steel platebody is a platebody made out of Steel. It requires 5 Defence to wield, and can be made using 5 steel bars at level 48 Smithing Granting 187.5 Smithing experience. It can also be picked up from the level 40 Wilderness in the Lava Maze, or bought from Horvik's Armour Shop in Varrock or Zenesha's Plate Mail Body Shop in East Ardougne for 2000 coins.
Bonuses
Hover over image for type

A player wearing a steel platebody.
 Attack bonus
+0
+0
+0
-30
-10
 Defence bonus
+32
+31
+24
-6
+31
Other bonuses
Slot

list

+0
0
0%
+0
Dropping monsters
Edit
| Monster | Combat level | Quantity | Rarity |
| --- | --- | --- | --- |
| Cyclops | 106 | 1 | |
| Troll General | 113 | 1 | |
| Hill Giant | 28 | 1 | |