Ad blocker interference detected!
Wikia is a free-to-use site that makes money from advertising. We have a modified experience for viewers using ad blockers

Wikia is not accessible if you've made further modifications. Remove the custom ad blocker rule(s) and the page will load as expected.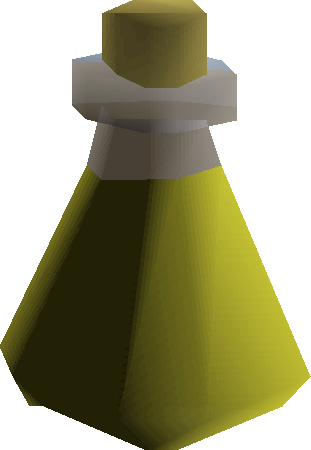 Strength potions can be made by a member with 12 Herblore by mixing tarromin and limpwurt root in a vial of water, giving 50 Herblore experience.
Additionally, if you take a limpwurt root and red spiders' eggs to the Apothecary in Varrock, he will make a 4-dose Strength potion for you for 5 coins. You don't need any Herblore level for this.
Strength potions temporarily raise your strength level by 10% + 3. They are the only potion available to non-members. If you add roe to a 2-dose potion it will become a 2-dose strength mix which heals 3 Hitpoints, adding caviar instead will not increase the health gain to 6 Hitpoints.
Members whose Attack and Strength levels add up to 130 or more can enter the Warriors Guild and buy Strength potions from the Warrior Guild Potion Shop for 15 coins.
Price per dose
Edit
| Item | Price per dose |
| --- | --- |
| Strength potion(1) | 156 |
| Strength potion(2) | 162 |
| Strength potion(3) | 136 |
| Strength potion(4) | 132 |
Unfinished potions

 Coconut milk •  Guam •  Rogue's purse •  Marrentill •  Tarromin •  Ash •  Harralander •  Guthix balance •  Ranarr •  Toadflax •  Magic essence •  Irit •  Ardrigal •  Snakeweed •  Avantoe •  Kwuarm •  Snapdragon •  Cadantine •  Lantadyme •  Antipoison+ •  Dwarf weed •  Weapon poison+ •  Torstol •  Antipoison++ •  Weapon poison++ •  Rejuvenation

Combat potions

 Attack (mix) •  Strength (mix) •  Defence (mix) •  Magic (mix) •  Ranging (mix) •  Combat (mix) •  Super attack (mix) •  Super strength (mix) •  Magic essence (mix) •  Super defence (mix)•  Super combat •  Antifire (mix) •  Extended antifire (mix) •  Zamorak brew (mix) •  Saradomin brew •  Super ranging •  Super magic •  Overload

Recovery potions

 Stat restore (mix) •  Energy (mix) •  Prayer (mix) •  Super energy (mix) •  Super restore (mix) •  Sanfew serum •  Stamina (mix)

Cures and antipoisons

 Relicym's balm (mix) •  Antipoison (mix) •  Superantipoison (mix) •  Antidote+ (mix) •  Antidote++ •  Sanfew serum •  Anti-venom •  Anti-venom+

Skill potions

Weapon poisons

Others

 Potion •  Blamish oil •  Bravery •  Strange •  Magic ogre(incorrect) (correct) (unf) •  Cadava •  Compost •  Guthix balance •  Guthix rest •  Shrink-me-quick •  Troll •  Olive oil •  Sacred oil •  Serum 207 •  Serum 208 •  Rejuvenation •  Voice