Stronghold Slayer Cave
Discuss

0
7,939pages on
this wiki
The Stronghold Slayer Cave is a massive dungeon located beneath the Gnome Stronghold. It contains many of the Slayer monsters that are commonly assigned to players. The cave is located near Nieve. Anyone can enter the dungeon, but players can only attack the Slayer monster they were assigned, and only while the task has not been completed. The Slayer ring can teleport you to the entrance of the cave. A Dwarf multicannon can be used here, but Gargoyles, Nechryaels, Abyssal demons, and Waterfiends cannot be cannoned.
All aggressive monsters in the dungeon, however, can attack the players. Even when attacked by a monster, a player cannot retaliate unless the monster is part of the player's assignment. Only Bloodvelds, Nechryaels, Abyssal demons and the level 28 Kalphites are not aggressive in the dungeon.
Within the centre of the Kalphite cavern, players can search a dead entomologist for his diary, which explains how the kalphites got there.
Around the dungeon, you may find roots which you have to jump over to continue. A Woodcutting axe is also advised to navigate throughout the dungeon, especially if you wish to not get hit by the Aberrant spectres.
The dungeon has two Agility shortcuts:
The shortcut north-east, requiring 57 Agility.
The mud pile south of the entrance, requiring 72 Agility to climb over.
The shortcuts allow players to navigate through the dungeon easily without having to pass through as many monster-filled rooms.
The entrance to the Stronghold Slayer Cave is located in the Gnome Stronghold near Nieve, who is located just south-west of the Spirit Tree.
There are various ways to get there:
Use a Slayer ring to teleport directly to the entrance by Nieve.
Use the Gnome Glider to Ta Quir Priw, which will take you to the Grand Tree. Exit the Grand tree and run south-west to the entrance.
Use the Spirit Tree to the Tree Gnome Stronghold and run south-west.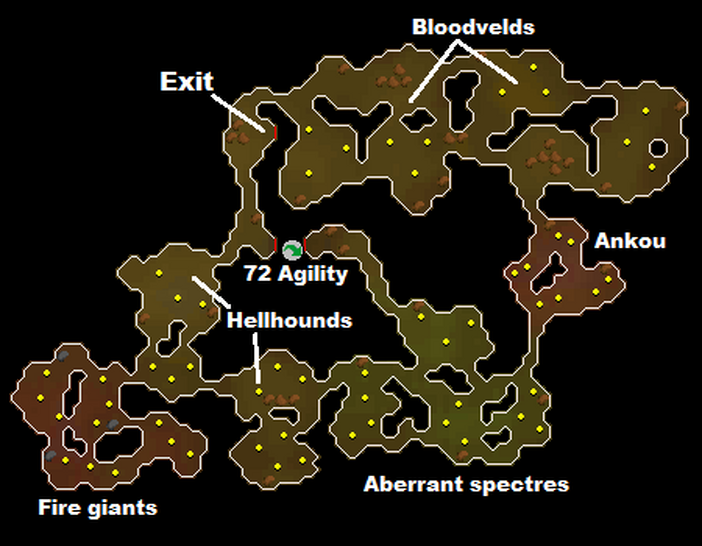 Monsters that can be found in the Stronghold Slayer Cave include:
Within the Stronghold Slayer Cave holds two boss variants of Cave krakens and Smoke devils.
Attempting to place a Dwarf multicannon around the area where Nechryaels, Abyssal demons, Gargoyles and Waterfiends are will leave a message in the chatbox saying, "The ground isn't very firm around the lake. You can't place a cannon here."
The dungeon has several similarites to RuneScape 3's Kuradal's Dungeon, as both dungeons' inhabitants can only be attacked on a slayer task, and two agility shortcuts. However, the Stronghold Slayer Cave Dungeon holds boss variants and many more monsters that Kuradal's Dungeon lacks.