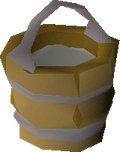 Sulphurous fertiliser is made by combining saltpetre with regular compost, granting 2 farming experience per bucket made. Making sulphurous fertiliser requires at least 5% favour with the Hosidius House.
It can be donated to the Clerk in Great Kourend's Hosidius House for favour. For every 2 buckets donated, 0.1 favour is gained.
From 5% favour, it takes 800 buckets of sulphurous fertilisers to reach 45%, 1,400 to reach 75%, or 1,900 to reach 100%.
Before an update on the 8th of January the favour was earned by donating Clerk 6 buckets of Sulphurous fertiliser per 0.1 favour earned.