Ad blocker interference detected!
Wikia is a free-to-use site that makes money from advertising. We have a modified experience for viewers using ad blockers

Wikia is not accessible if you've made further modifications. Remove the custom ad blocker rule(s) and the page will load as expected.
Sweetcorn seed
Release date
11 July 2005 (Update)
Farming level
20
Exchange price

91

coins (info)
Patch
Allotment
Time
50 min (5x10 min)
Planting XP
17
Check-health XP
N/A
Harvesting XP
19
Payment
10 jute fibres
Tradeable?
Yes
High alch
4 coins
Low alch
3 coins
Store price
8 coins

Examine
A sweetcorn seed - plant in an allotment.
[view] • [talk]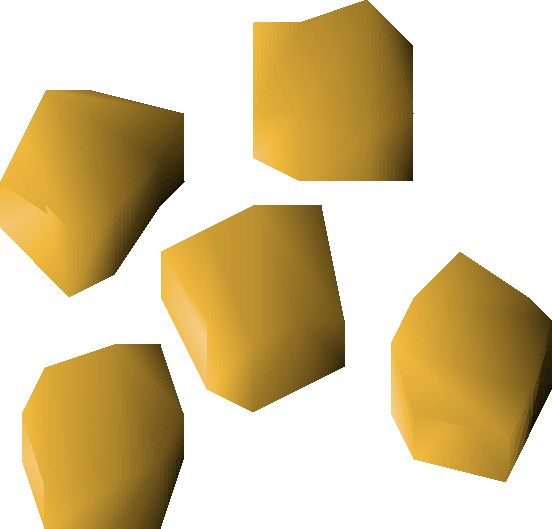 Sweetcorn seeds may be grown in an allotment patch into Sweetcorn (three seeds are required per patch). It requires level 20 in farming. Planting will earn a player 17 Farming experience. A player can receive up to 35 sweetcorn from one patch. They may also be obtained by pickpocketing Master farmers or by stealing them from Olivia's seed stall in Draynor Village.
They are dropped by Hill Giants, or can be obtained as a rare drop from City Guards.
A nearby gardener will watch over your growing sweetcorn at the cost of 10 jute fibres.
Alternatively, a scarecrow may be placed in the flower patches nearby for the same effect.
Allotment

 Potato •  Onion •  Cabbage •  Tomato •  Sweetcorn •  Strawberry •  Watermelon

Flower

 Marigold •  Rosemary •  Nasturtium •  Woad •  Limpwurt

Herb

 Guam  Marrentill •  Tarromin •  Harralander •  Gout tuber •  Ranarr •  Toadflax •  Irit •  Avantoe •  Kwuarm •  Snapdragon •  Cadantine •  Lantadyme •  Dwarf weed •  Torstol

Hop

 Barley •  Hammerstone •  Asgarnian •  Jute •  Yanillian •  Krandorian •  Wildblood

Bush

 Redberry •  Cadavaberry •  Dwellberry •  Jangerberry •  Whiteberry •  Poison ivy

Tree
Fruit tree

 Apple tree •  Banana tree •  Orange tree •  Curry tree •  Pineapple •  Papaya tree •  Palm tree

Special seeds
Tithe Farm seeds

Other seeds

 Delphinium •  Yellow orchid •  Pink orchid •  Snowdrop •  Vine •  White tree •  Red rose •  Pink rose •  White rose •  Hardy gout tubers •  Blindweed •  Kelda •  White pearl •  Grass •  Pine tree •  Crystal (small)