Ad blocker interference detected!
Wikia is a free-to-use site that makes money from advertising. We have a modified experience for viewers using ad blockers

Wikia is not accessible if you've made further modifications. Remove the custom ad blocker rule(s) and the page will load as expected.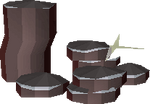 Tokkul is the only currency of the underground TzHaar City. It is made from obsidian; it cannot be created by players. Tokkul is sometimes referred to as TokKul by some of the NPCs in the city. Apparently, Tokkul is made out of dead corpses of the TzHaar, as stated in a Postbag from the Hedge letter. This is the reason why players cannot trade Tokkul with each other.
Getting Tokkul
Edit
Since Tokkul isn't tradeable, it is difficult to get. There are currently only four ways to get Tokkul:
The TzHaar Fight Pit minigame, along with selling to the TzHaar shops, was the first way to get Tokkul.
The Fight Cave is the ultimate gauntlet for players proving themselves worthy of a fire cape. Players obtain variable Tokkul as a consolation prize depending on how far they progress before succumbing. The amount of Tokkul received from the Fight Cave is doubled after completing the Elite tasks in the Karamja Diary. However, this diary requires already owning a fire cape.
Selling Items
Edit
This is a way to get quick Tokkul at low levels. It is mainly most effective to sell runes at the TzHaar Rune shop, as well as obsidian mauls at the weapons shop or uncut gems at the gem shop. The TzHaar stores buy back items for approximately 10-20% of the store selling price. Due to the limited usefulness of some of the Tzhaar weapons (maul, knives, sword) the prices of these items are determined by the price of the Onyx gemstone.
It is recommended to wear Karamja gloves 1 while selling items to TzHaar shops, as this increases the amount of Tokkul received.
Spending Tokkul
Edit
After a player earns a good amount of Tokkul, they have three places to spend it in. Wearing Karamja gloves 1 or higher will give a player a discount. For instance, uncut onyx will cost 260K tokkul instead of 300K. When you sell things to the store such as Iron Ore and Copper Ore, the price WILL lower per item you sell.
| Item | Type | Buy | Buy with gloves | Sell | Sell with gloves |
| --- | --- | --- | --- | --- | --- |
| | Throwing ring | 375 | 325 | 34 | 87 |
| | Sword | 60,000 | 52,000 | 6,000 | 14,000 |
| | Dagger | 37,500 | 32,500 | 3,550 | 8,750 |
| | Staff | 52,500 | 45,500 | 5,000 | |
| | Mace | 45,000 | 39,000 | 4,000 | 10,500 |
| | Maul | 75,000 | 65,000 | 7,500 | 17,500 |
| | Cape | 90,000 | 78,000 | 9,000 | 21,000 |
| | Shield | 67,500 | 58,500 | 6,750 | 15,750 |
| Rune | Default | Buy | Buy with gloves | Sell | Sell with gloves |
| --- | --- | --- | --- | --- | --- |
| | 5,000 | 6 | 5  | 0 | 1 (6 sold =0) |
| | 5,000 | 6 | 5 | 0 | 1 (6 sold = 0) |
| | 5,000 | 6 | 5 | 0 | 1 (6 sold = 0) |
| | 5,000 | 6 | 5 | 0 | 1 (6 sold = 0) |
| | 5,000 | 4 | 3 | 0 | 1 (6 sold = 0) |
| | 5,000 | 4 | 3 | 0 | 1 (6 sold = 0) |
| | 2,500 | 45 | 27 | 9 | 9 |
| | 2,500 | 90 | 54 | 18 | 18 |
| Item | Default | Buy | Buy with gloves | Sell | Sell with gloves |
| --- | --- | --- | --- | --- | --- |
| | 5 | 4 | 3 | 0 | 1 |
| | 5 | 4 | 3 | 0 | 1 |
| | 2 | 25 | 22 | 2 | 5 |
| | 0 | 112 | 97 | 7 | 11 |
| | 0 | 67 | 58 | 6 | 15 |
| | 0 | 225 | 195 | 22 | 52 |
| | 0 | 243 | 210 | 24 | 56 |
| | 0 | 600 | 520 | 60 | 140 |
| | 0 | 4,800 | 4,160 | 480 | 1,120 |
| | 1 | 37 | 32 | 3 | 8 |
| | 1 | 75 | 65 | 7 | 17 |
| | 0 | 150 | 130 | 15 | 35 |
| | 0 | 300 | 260 | 30 | 70 |
| | 0 | 1,500 | 1,300 | 150 | 350 |
| | 1 | 300,000 | 260,000 | 30,000 | 74,000 |
| | 50 | 1,500 | 1,300 | 150 | 350 |
Tradeable

 Coins •  Archery tickets •  Platinum token •  Trading sticks •  Survival token

Untradeable

 Agility arena tickets •  Blood money •  Castle wars tickets •  Ecto-tokens •  Frog tokens •  Golden nuggets •  Marks of grace •  Paramaya tickets •  Pieces of eight •  Reward token •  Tokkul •  Warrior guild tokens

Virtual

Bounty Hunter points • Honour points • Nightmare Zone reward points • Pizazz points • Slayer reward points • Void Knight commendation points