Ad blocker interference detected!
Wikia is a free-to-use site that makes money from advertising. We have a modified experience for viewers using ad blockers

Wikia is not accessible if you've made further modifications. Remove the custom ad blocker rule(s) and the page will load as expected.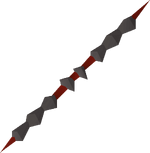 A Toktz-mej-tal (also known as an obsidian staff) is a two-handed staff used by the TzHaar-Mej, and can be obtained as a rare drop from them. Level 60 Magic and Attack is required to wield it. As well as being able to cast Magic spells, it can be sufficiently used as a Melee weapon due to its attack bonuses. It is the only staff besides Ahrim's staff to require two hands to equip.
Ten of these are used to build an obsidian fence at level 83 Construction in a player's Superior Garden.
Bonuses
Hover over image for type

A player wielding the Toktz-mej-tal
 Attack bonus
+15
-1
+55
+15
+0
 Defence bonus
+10
+15
+5
+15
+0
Other bonuses
Slot

list

+55
0
0%
+5
Combat style
Edit
Dropping monsters
Edit
| Monster | Combat level | Quantity | Rarity |
| --- | --- | --- | --- |
| TzHaar-Mej | 103 | 1 | |
Rarity Source-https://twitter.com/JagexAsh/status/606367648872423424
Staves

 Staff •  Magic staff •  White •  Air •  Water •  Earth •  Fire •  Ancient staff •  Iban's (upgraded) •  Toktz-mej-tal •  Ahrim's staff •  Staff of the dead •  Toxic staff of the dead

Battlestaves

 Battlestaff •  Air •  Water •  Earth •  Fire •  Lava •  Mud •  Steam (or) •  Smoke •  Mist •  Dust

Mystic staves

 Air •  Water •  Earth •  Fire •  Lava •  Mud •  Steam (or) •  Smoke •  Mist •  Dust

God staves
Croziers

Other staves

 Broken •  Staff of armadyl •  Skull sceptre •  Dramen •  Lunar •  Rod of ivandis •  Slayer's •  Trident of the seas •  Trident of the swamp •  Pharaoh's sceptre •  Void knight mace