Ad blocker interference detected!
Wikia is a free-to-use site that makes money from advertising. We have a modified experience for viewers using ad blockers

Wikia is not accessible if you've made further modifications. Remove the custom ad blocker rule(s) and the page will load as expected.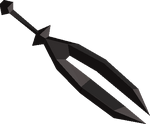 The Toktz-xil-ak, also known as the obsidian splitsword or obby sword, requires an Attack level of 60 to wield. It has a shortsword attack style, with bonuses similar to a rune longsword, making it the second strongest shortsword.
When properly equipped, the obby sword is one of the best weapons used for training the strength skill, epecially for those who do not want to complete the master quest Monkey Madness for use of the dragon scimitar.
If paired with a berserker necklace you will gain a 20% boost to damage, but a -10 to all attack and -20 to all defence bonuses. This makes it stronger yet less accurate than a dragon scimitar, and possibly an unblessed Saradomin sword. The use of a defender is strongly recommended to make up for some of the stat losses.
Bonuses
Hover over image for type

A player wielding the Toktz-xil-ak.
 Attack bonus
+47
+38
-2
+0
+0
 Defence bonus
+2
+3
+0
+0
+0
Other bonuses
Slot

list

+49
0
0%
+0
Combat styles
Edit
Dropping monsters
Edit
| Monster | Combat level | Quantity | Rarity |
| --- | --- | --- | --- |
| TzHaar-Xil | 133 | 1 | |
Standard

 Bronze •  Iron •  Steel •  Black •  White •  Mithril •  Adamant •  Rune

Others

 Training sword •  Wooden sword •  Leaf-bladed sword •  Toktz-xil-ak