Ad blocker interference detected!
Wikia is a free-to-use site that makes money from advertising. We have a modified experience for viewers using ad blockers

Wikia is not accessible if you've made further modifications. Remove the custom ad blocker rule(s) and the page will load as expected.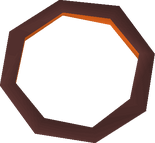 Toktz-xil-ul are obsidian throwing rings that require level 60 Ranged to wield and can be purchased for 375 Tokkul each from the obsidian weapons store. They are quite powerful, having stats equivalent to a magic shortbow in conjunction with rune arrows, making them one of the more powerful thrown weapons. Because of this, and the fact that they can be equipped with a shield, they are seen in PvP scenarios quite often. However, they are significantly more expensive than rune arrows, making them less practical for general use.
Twenty-five of these are used to build an obsidian fence at level 83 Construction in a player's Superior Garden.
Bonuses
Hover over image for type

A player wielding Toktz-xil-ul
 Attack bonus
+0
+0
+0
+0
+69
 Defence bonus
+0
+0
+0
+0
+0
Other bonuses
Slot

list

+0
+49
0%
+0
Combat styles
Edit
Dropping monsters
Edit
| Monster | Combat level | Quantity | Rarity |
| --- | --- | --- | --- |
| TzHaar-Xil | 133 | 9–29 | |
The Tzhaar-Xil who wield Toktz-xil-ul seem to be able to use them for melee attacks as well as ranged attacks. Players are only able to use them as ranged weapons, however.
Shortbows

 Normal(u) •  Oak(u) •  Willow(u) •  Maple(u) •  Yew(u) •  Magic(u) (i)

Longbows

 Normal(u) •  Oak(u) •  Willow(u) •  Maple(u) •  Yew(u) •  Magic(u)

Composite bows

Special bows

 Training •  Cursed goblin •  Ogre •  Seercull •  Dark •  3rd age •  Crystal

Crossbows

 Normal •  Phoenix •  Bronze •  Blurite •  Iron •  Steel •  Mithril •  Adamant •  Hunter's •  Rune •  Karil's •  Armadyl

Ballistae
Darts

 Bronze •  Iron •  Steel •  Black •  Mithril •  Adamant •  Rune •  Dragon •  Toxic blowpipe

Throwing knife
Javelins
Other items

 Cannon (Cannonball) •  Chinchompa •  Red chinchompa •  Black chinchompa •  Toktz-xil-ul •  Holy water • Arrows