Trident of the seas
Discuss

0
5,806pages on
this wiki
The Trident of the seas is a weapon requiring 75 Magic to wield. Charging it requires 1 death rune, 1 chaos rune, 5 fire runes and 10 coins for each cast, holding for up to 2,500 charges. Both hands must be free in order to charge the weapon. There is no base experience given for the spell; only the damage dealt will give experience. The chatbox will automatically notify your remaining charges every 100 casts.
The trident can only be obtained as an uncommon[1] drop from Cave krakens, which require 87 Slayer to be assigned.
The trident can be used against other players; but only within the Castle Wars and TzHaar Fight Pit minigames.
*The trident is only tradeable in its uncharged and fully charged states. The charges can be removed at anytime, however, your coins will not be refunded.
Bonuses
Hover over image for type

A player wielding the trident of the seas.
  Attack bonus  
0
0
0
+15
0
  Defence bonus  
+2
+3
+1
+15
0
Other bonuses
Slot

0
0

Compare item
Maximum hit
Edit
The trident deals damage dependent on your magic level, from 24 at level 75, to 32 at level 99. This spell casts spells 20% faster than normal spells.
Stat-boost and stat-reduction effects will modify the max hit of the spell. The spell is capped at a maximum hit of 32 with a Magic potion at 99. If your magic has been decreased below 75, your maximum hit will be below 20.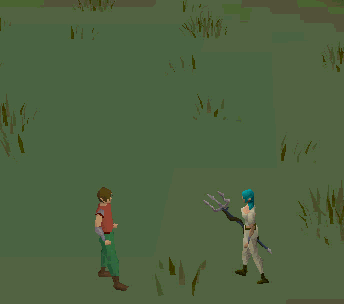 | level | Maximum hit |
| --- | --- |
| 75-77 | 24 |
| 78-80 | 25 |
| 81-83 | 26 |
| 84-86 | 27 |
| 87-89 | 28 |
| 90-92 | 29 |
| 93-95 | 30 |
| 96-98 | 31 |
| 99-101 | 32 |
| 102-103 | 36 |
References
Edit
Staves
Battlestaves

Battlestaff • Air • Water • Earth • Fire • Lava • Mud • Steam

Mystic staves
God staves

Other staves

Ahrims • Ancient • Broken • Skull sceptre • Crozier • Dramen
Lunar • Iban's • Rod of ivandis • Slayer's • Toktz-mej-tal
Trident of the seas • Pharaoh's sceptre • Void knight mace • Staff of the dead