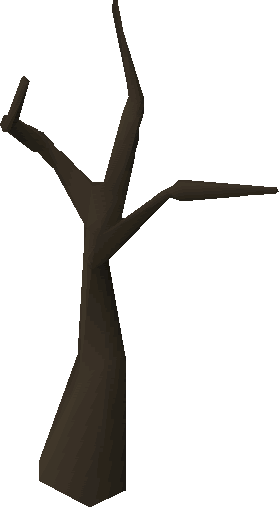 Undead trees are located in the front yard of Draynor Manor. They are smaller than the regular dead trees. Undead trees have a yellow label while dead trees have a blue label. It is possible to receive a bird's nest from an undead tree. However, this nest will always be empty.

Regular axes are unable to cut a undead tree. A blessed axe obtained during the Animal Magnetism quest is only able to get undead twigs. Cutting undead twigs gives 5 Woodcutting experience and requires a Slayer level of 18.
When a player walks past an undead tree, the tree may attack them, inflicting a maximum of 3 hitpoints. Players cannot retaliate against these trees, so it is best to simply run away. However, one can activate Protect from Melee to completely block their attacks. This isn't necessary, though, as their attacks are fairly weak.
Ad blocker interference detected!
Wikia is a free-to-use site that makes money from advertising. We have a modified experience for viewers using ad blockers

Wikia is not accessible if you've made further modifications. Remove the custom ad blocker rule(s) and the page will load as expected.