Ad blocker interference detected!
Wikia is a free-to-use site that makes money from advertising. We have a modified experience for viewers using ad blockers

Wikia is not accessible if you've made further modifications. Remove the custom ad blocker rule(s) and the page will load as expected.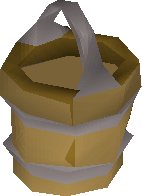 Unsanitary swill, sometimes referred to as 'rum', is a player made quest item brewed during the Rum Deal quest. It is made by adding blindweed, stagnant water, sluglings, and a fever spider body to a brewing device on Braindeath Island. It is used on Captain Donnie who doesn't become drunk, but he does tell you the name 'Rabid Jack'.
Misc.

 Bucket •  Bucket of water •  Bucket of milk •  Apple mush •  Chocolatey milk •  Compost •  Supercompost •  Bucket of sand •  Bucket of sap •  Bucket of slime •  Bucket of wax •  Bailing bucket •  Bucket of sandworms

Quest items

 Full bucket •  Dwarf brew •  Hangover cure •  Bucket of rubble •  Magic glue •  Enchanted milk •  Milky mixture •  Ugthanki dung •  Unsanitary swill •  Weird gloop •  Murky water •  Blessed water •  Bucket of water (Rum Deal) •  Empty bucket •  1/5ths full bucket •  2/5ths full bucket •  3/5ths full bucket •  4/5ths full bucket •  Full bucket (Fremennik Trials) •  Frozen bucket •  Bucket •  Bucket of water