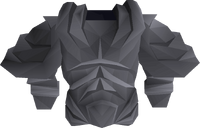 Varrock armour 4 is a reward from completing the elite Varrock Diary. The armour is received from Toby in Varrock and can be retrieved from him for free if lost. The armour shares the same defensive stats as the Adamant platebody.
Bonuses
Hover over image for type

A player wearing the elite diary set
 Attack bonus
+0
+0
+0
-30
-10
 Defence bonus
+65
+63
+55
-6
+63
Other bonuses
Slot

list

+0
+0
+0%
+0
From Varrock armour 1, 2 and 3
Edit
Access to the new Cooking guild bank.
Option to toggle Varrock teleports to the Grand Exchange.
Varrock armour 4 only
Edit
120 battlestaves from Zaff every day for 7,000 coins each
10% chance of mining 2 of any ore
10% chance of smelting 2 of any bar at once when using the Edgeville furnace
Acts as a prospector jacket
Ardougne Diary
Desert Diary
Falador Diary
Fremennik Diary
Kandarin Diary
Karamja Diary

| | |
| --- | --- |
| NPCs | Pirate Jackie the Fruit • Kaleb Paramaya • Jungle forester • TzHaar-Mej |
| Rewards | |

Lumbridge & Draynor Diary
Morytania Diary
Varrock Diary
Wilderness Diary
Western Provinces Diary