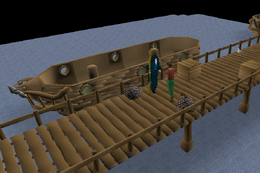 Veos is a portmaster and a scout for an elite Triumvirate, located at the southernmost dock in Port Sarim. He will take players to Great Kourend's Piscarilius House in Zeah, a large continent west of the mainland.
He was released silently along with the Grand Exchange, located in a dock south of Port Tyras and north-west of Zul-Andra. If players asked about his origins, he will refuse to answer, but will whisper to the player that "we are not alone". During the 2015 Christmas event he was relocated to his current location, but did not allow players to board his ship, as it was unable to set sail just yet due to his ship requiring repairs.
When docked at Port Tyras:
Player: Who're you? I've never seen you around these parts before.
Veos: I am Veos. Port master and scout for an elite Triumvirate.
Player: Triumvirate?
Player: Who? Where? Why have you suddenly docked here?
Veos: These are questions to which you shall not find answers, adventurer.
Player: Then why are you here?
Veos: There are secrets in this world for which you are not ready.
Veos whispers...
Veos: Yo.... we, are not alone.
Arceuus House

Arcis • Aretha • Batt Mellamy • Biblia • Clerris • Dark wizard • Enoch • Filamina • Freald • Horphis • Loinur • Logosia • Look-out • Mofina • Novice • Ouditor • Professor Gracklebone • Rassain • Regath • Sam • Sister Soul Jar • Thyria • Tower Mage • Trossa • Tyss • Villia • Wizard

Piscarilius House

Alexander • Andrea • Captain Janaway • Captain Khaled • Charles • Cheryl • Darren • Dock worker • Dockmaster • Elizabeth • Fisherman • Frankie • Kenelme • Lorraine • Leenz • Mark • Melvin • Nicholas • Patrolman • Patrolwoman • Piliar • Port Official • Port worker • Raeli • Ross and Ben • Sarah • Simon • Tynan • Veos

Lovakengj House

Armourer (tier 1) • Armourer (tier 2) • Armourer (tier 3) • Armourer (tier 4) • Armourer (tier 5) • Fuggy • Lovada • Mine supervisor • Miriam • Munty • Operator • Toothy • Thirus

Shayzien House

Captain Babacus • Captain Ginea • Captain Kilian • Captain Rachelle • Captain Salara • Drill instructor • Mogrim • New recruit Tony • Nurse Boubou • Nurse Inn'Juree • Nurse Wooned • Osten • Shayda • Soldier (tier 1) • Soldier (tier 2) • Soldier (tier 3) • Soldier (tier 4) • Soldier (tier 5) • Quartermaster Briget

Hosidius House

Berry • Bologa • Charlie Brown • Chief Farmer • Clerk • Estate agent • Ewesey • Farmer's wife • Farmer Gricoller • Farmer Hayfield • Father Jean • Forester • Gallow • Golova • Gruff McScruff • Guildmaster Lars • Horace • Hosa • Kai • Konoo • Lammy Langle • Logava • Marisi • Murfet • Nesty • Pandur Hosidius • Perry • Ramocean • Richard • Servery assistant • Smoggy • Talia • Traxi • Vannah • Watson