Ad blocker interference detected!
Wikia is a free-to-use site that makes money from advertising. We have a modified experience for viewers using ad blockers

Wikia is not accessible if you've made further modifications. Remove the custom ad blocker rule(s) and the page will load as expected.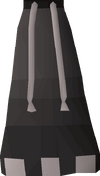 The Void knight robe is a piece of Void Knight equipment. It can be bought from a Void Knight for 250 Void Knight commendation points, although a player must have at least 42 Attack, Strength, Defence, Hitpoints, Ranged, and Magic, along with 22 Prayer to buy and wear one. It is worn in combination with the other pieces of Void Knight Armour to achieve the designated set effect, depending on which helm is worn.The Void Knight Robe has better Magic Defence than Black d'hide chaps with +30 as opposed to +28.
If the player dies below level 20 Wilderness and the robe is not protected, it will be dropped on the ground. This means the player can return to where they had died and re-obtain it. However, the item will be unusable and must be repaired with 45,000 coins by using the item on Perdu.
Bonuses
Hover over image for type

Male appearance

Female appearance
 Attack bonus
+0
+0
+0
+0
+0
 Defence bonus
+30
+30
+30
+30
+30
Other bonuses
Slot

list

+0
0
0%
+0
NPCs

Void Knight • Elite Void Knight • Squire (Novice) • Squire (Intermediate) • Squire (Veteran)

Monsters

Portals • Brawler • Defiler • Ravager • Shifter • Spinner • Splatter • Torcher

Rewards

| | |
| --- | --- |
| Void Knight equipment |  Mace •  Top(Elite) •  Bottom(Elite) •  Gloves •  Mage helm •  Melee helm •  Ranger helm •  Void seal |
| Other rewards | |