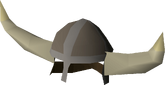 A warrior helm is a piece of armour that can be worn by players who have completed The Fremennik Trials quest and have a Defence level of 45. The helm can be bought at the Skulgrimen's Battle Gear shop in Rellekka for 78,000 coins.
Due to its lack of a strength bonus, the warrior helm is far less popular than its counterpart, the berserker helm, despite having a small slash bonus (+5) and better defence against the widely used slash attack (+33 instead of +29). However, it is a good alternative against the fighter hat, assuming those who plan to use the Warrior helm are using a slash weapon, especially considering that it provides slightly better resistance to all attacks.
Bonuses
Hover over image for type

A player wearing a warrior helm
 Attack bonus
+0
+5
+0
-5
-5
 Defence bonus
+31
+33
+29
+0
+30
Other bonuses
Slot

list

+0
0
0%
+0
Dropping monsters
Edit
Yak-hide armour
Rock-shell armour
Spined armour
Skeletal armour

Fremennik robes

Rings

 Warrior (imbued) •  Berserker (imbued) •  Seers (imbued) •  Archers (imbued)

Helms

 Fremennik •  Archer •  Berserker •  Farseer •  Warrior •  Helm of neitiznot

Fremennik cloaks

 Cyan •  Brown •  Blue •  Green •  Red •  Grey •  Yellow •  Teal •  Purple •  Pink •  Black

Fremennik shirts

Others
Ad blocker interference detected!
Wikia is a free-to-use site that makes money from advertising. We have a modified experience for viewers using ad blockers

Wikia is not accessible if you've made further modifications. Remove the custom ad blocker rule(s) and the page will load as expected.