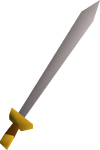 The White sword is a White knight weapon that requires level 10 Attack and completion of the quest Wanted! to be equipped. This weapon can be purchased in Falador from Sir Vyvin if your White Knight rank is at least that of a peon.
As with all White equipment, it offers the same bonuses as Black equipment, with a prayer bonus.
As with all White weapons, players cannot make this using the Smithing skill.
Bonuses
Hover over image for type

A player wielding a white sword
 Attack bonus
+14
+10
-2
+0
+0
 Defence bonus
+0
+2
+1
+0
+0
Other bonuses
Slot

list

+12
0
0%
+1
Standard

 Bronze •  Iron •  Steel •  Black •  White •  Mithril •  Adamant •  Rune •  Dragon

Others

 Training sword •  Wooden sword •  Leaf-bladed sword •  Toktz-xil-ak
Weapons

 Dagger •  Mace •  Claws •  Sword •  Longsword •  Scimitar •  Warhammer •  Battleaxe •  Two-hander •  Halberd •  Magic staff

Armour

 Medium helmet •  Full helmet •  Square shield •  Kiteshield •  Chainbody •  Platebody •  Plateskirt •  Platelegs •  Boots •  Gloves
Ad blocker interference detected!
Wikia is a free-to-use site that makes money from advertising. We have a modified experience for viewers using ad blockers

Wikia is not accessible if you've made further modifications. Remove the custom ad blocker rule(s) and the page will load as expected.