A windmill is a place where you can grind grain into flour. To use the mill, a player must place their grain into the hopper on the 2nd3rd floor[U.K. floor] and operate the hopper controls. The flour can be collected on the ground floor, by using a pot on the flour bin. Making flour does not grant players any cooking experience.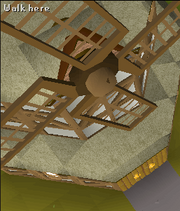 Locations
Edit
Windmills are marked on the map with a yellow icon (

).
Players can find windmills in these locations:
Ad blocker interference detected!
Wikia is a free-to-use site that makes money from advertising. We have a modified experience for viewers using ad blockers

Wikia is not accessible if you've made further modifications. Remove the custom ad blocker rule(s) and the page will load as expected.