The Zombie Champion can only be fought after receiving the Zombie champion scroll as part of the Champion's Challenge minigame. He is the greatest warrior to the Zombie race. Special rules are set, so that you can not use magic attacks while fighting him. You CAN use the saradomin sword special attack.
The Champion attacks only with melee. His maximum hit is 5, so lower levels may need some food (trout or salmon works well). Take some heavy armour such as rune or better. Melee is the most popular method for killing this champion.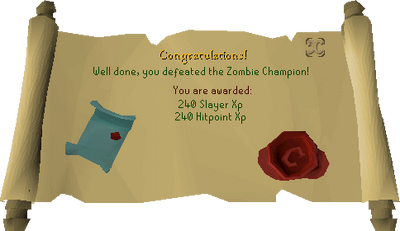 240 experience
240 experience
A banner hung under the Champions' Guild to proclaim victory over the Zombie Champion.
Lower Champions

Imp • Goblin • Skeleton • Zombie • Giant • Hobgoblin • Ghoul • Earth Warrior • Jogre • Lesser Demon

Champions of Champions

Scrolls

 Imp •  Goblin •  Skeleton •  Zombie •  Giant •  Hobgoblin •  Ghoul •  Earth warrior •  Jogre •  Lesser demon